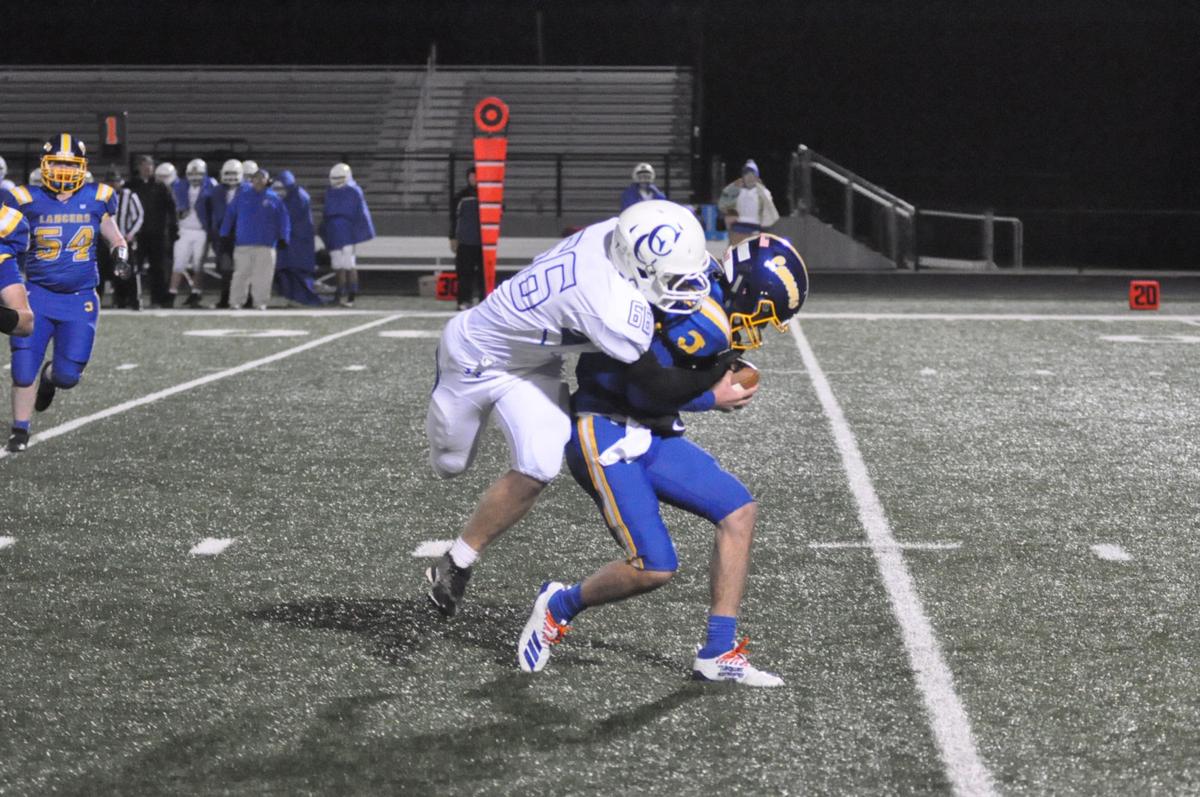 WILMOT — The host Wilmot football team broke open a close game after halftime with 20 unanswered points to pull away for a 41-14 Southern Lakes Conference victory over county rival Central on Friday night at Frank Bucci Field.
Leading 21-14 at halftime, Wilmot (7-1 overall, 5-1 SLC) took to the air in the second half, as quarterback Zack Watson completed touchdown passes of 7, 37 and 58 yards to Joey Tanski, Leo Falletti and Asher Schroeder in succession.
Watson finished the night with 273 total yards, as he rushed 19 times for 161 yards and completed 4-of-9 passes for 112 yards.
While what Watson does with his feet is well-known, adding a consistent passing attack can only help the Panthers the rest of the way, Wilmot coach Keiya Square said.
"The touchdowns he threw were perfect balls, right on the money," Square said. "He's worked on (that) a ton. He works on it every day, and he's confident throwing the ball."
The first half was a different story, as Central (2-6, 2-4), which starts a combined 13 sophomores and freshmen on both sides of the ball, hung right with the Panthers.
Both teams traded two touchdowns into the second quarter.
Wilmot's Cal Jenkins scored on a 1-yard run in the first quarter, before Central's Jakob Simmons knotted the score at 7-7 on an 8-yard run early in the second.
Watson put the Panthers back in front with a 10-yard touchdown run, but the Falcons again answered, this time on a 49-yard scoring strike from quarterback Gavin Carlson to Myles Kazumura with 7 minutes, 15 seconds left before halftime.
Wilmot took the lead for good, as Watson struck again with an 8-yard run late in the first half.
Central coach Tyson Mengel was proud of his team's effort, especially right out of the gate to start the game.
"Our guys were fired up," he said. "It is our rivalry. Coming out, we had some gadget plays, and we were going to take some shots. We said, '(As coaches), we're not going to hold back, so you guys don't hold back.'
"The first half, even the third quarter, we came out swinging, but (Wilmot) is a good football team. You have to play a really good football game to beat that team."
INDIAN TRAIL 12, OAK CREEK 0
The offenses during a key Southeast Conference battle at Jaskwhich Stadium between the Hawks and Knights, who entered the contest with matching records of 5-2 overall and 4-1 in the SEC, were as cold as temperatures that plummeted down to 41 degrees by game's end until lightning struck midway through the third quarter.
Indian Trail's Curtiss Tolfree III scooped up a blocked field goal a little over 3 minutes after the intermission and raced 50 yards to set up the game's first score, and a stifling defense, the dynamic passing-receiving duo of juniors Argjent Ismaili and Kameron Lee and the churning legs of sophomore battering ram Xavier McWhorter settled matters from there.
"He kicked it low," Indian Trail coach Paul Hoffman said of Dragan Kesich, a 6-foot-4, 250-pound left-footed behemoth who's reportedly getting serious NCAA Division I looks.
"All of a sudden (after the ball had been laying on the turf for what seemed like several seconds), Curtiss squirted out with it. He played some running back for us earlier in the season. That kid can move."
Move he did, all the way down to the Knights' 28-yard line for what to that point marked the Hawks' deepest penetration of the night.
"To be honest, I really didn't know what was going on," Tolfree said. "I got the ball. I just took off. It's great that we got the offense in a good position to score."
Ismaili had a great look at the play from the electrified home sideline.
"That was really unexpected," said Ismaili, the SEC's leading passer who completed 8-of-12 throws for 118 yards and the clinching score to Lee with 4:03 remaining in the third.
""It looked like (Kesich) hit his own lineman, and then it (sat on the ground) and Curtiss just took it. He has running back in him, too. He put us in great field position and we scored."
That came on a 1-yard thunderbolt from McWhorter. After not touching the ball at all in the opening 24 minutes, McWhorter plunged across from the 1 with 7:50 left in the third after a 23-yard strike from Ismaili to Lee to put the Hawks on the doorstep. McWhorter finished with 58 tough yards on 14 attempts.
"He's our workhorse," said Ismaili, who's now thrown for 1,385 yards and 13 touchdowns this season. "He picks up the yards when we need it to run clock."
Before the Hawks could even think about that, though, they first needed to create some separation. After Payton Metzger's extra-point attempt sailed wide left to leave the hosts especially vulnerable, a rock-solid defense that yielded only 201 yards kept Oak Creek at bay for a sixth time when Dalton Callow caused and recovered a fumble by Knights quarterback Ryan Hock at the Indian Trail 37.
The Hawks went right to work, scoring two plays later when Ismaili connected with his favorite target on this night for a 57-yard catch-and-run play up the home sideline that all but pulled the blankets over this one.
"I saw Kam pretty much one-on-one with the corner," Ismaili said of the 6-3, 201-pound Lee. "I'm going to take that every time."
As will the Hawks take the first Homecoming victory in memory every single time.
"It's amazing," said Tolfree, a 6-foot, 190-pound senior. "This is the first Homecoming win of my high school career. I'm real excited. I can't wait to celebrate (the win) tomorrow night at Homecoming."
BURLINGTON CATHOLIC CENTRAL 21, ST. JOSEPH 14, OT
For 24 minutes of football, the Metro Classic Conference leading rusher looked like a mere mortal.
Thanks to a physical front line and quick linebackers flying around the field, St. Joseph senior Jake Gessert was held in check early and often as Burlington Catholic Central controlled the line of scrimmage at Bradford Stadium on a bone-chilling fall night.
Temperatures dipped into the 30s, and it played into the hands of Catholic Central, which needed a victory to clinch a postseason berth for the first time since 2015.
Though Gessert and company picked up the pace in the second half and took the Hilltoppers to overtime, ultimately the Lancers fell short in a 21-14 thriller.
"I've been better," St. Joseph coach Matt Rizzo expressed of his feelings after the game.
"It was a heck of a high school football game. We had five forced fumbles and only (recovered) one. They executed more than we did. It was one of those games where you hate to see one team lose."
The loss means the Lancers (5-3 overall, 3-3 Metro Classic) must find a way to knock off defending WIAA Division-4 state champion Racine St. Catherine's next week at Horlick Field in order to qualify for the postseason, at least automatically.
Meanwhile, the Hilltoppers (5-3, 4-2) enjoyed a bus ride back to Burlington filled with hoots and hollers, as a once-dominant program will return to the postseason.
"St. Joe's is a good ball club, they played really well," Catholic Central coach Tom Aldrich said.
"We just outlasted them. They are well-coached and play hard. It was a quality opponent, so it's that much sweeter."
Aldrich exclaimed he was "extremely happy" about the victory, and the players were all "pretty pumped" after St. Joseph's offensive possession in overtime went awry.
Catholic Central even gave the Lancers a few extra chances with penalties on the game-deciding drive, but Aldrich said his guys were able to hold on.
St. Joseph suffered a tough break on its overtime possession.
After a first down, quarterback Jacob Ashmus was knocked out of the game with a concussion, according to Rizzo, after a helmet-to-helmet hit — no penalty was called — which forced Gessert to take over under center.
St. Joseph benefited from pass interference in the end zone and a facemask, but on fourth-and-1 from the 5-yard line, the Lancers fumbled.
Just like last week, when the Hilltoppers beat Whitefish Bay Dominican in overtime, Brandon Pum scored the game-winner on a short run.
The senior quarterback, who played wide receiver last season, now has two consecutive walk-off touchdowns.
"His confidence is growing," Aldrich said of Pum. "The veer offense is tough to master.
"Our offense is coming together."
Gessert's 5-yard touchdown run with 2 minutes, 48 seconds to play tied things up at 14-14, and Rizzo was impressed at how the Lancers sucked it up and prevented the Hilltoppers from winning in regulation.
Ashmus added a 1-yard score in the third quarter.
Gessert was held to 57 yards on 22 carries, while Ashmus finished 8-of-11 for 100 yards passing.
The Lancers have has a tall next week with a playoff bid likely on the line against the state-power Angels, but Rizzo obviously isn't backing down
"I'd go to battle with my guys any day," he said. "I expect to win that game."
SHORELAND LUTHERAN 52, ST. THOMAS MORE 6
The host Pacers pummeled the Cavaliers in Somers to notch their first Metro Classic Conference win of the season.
Junior quarterback Sawyer Smith went a sparkling 10-of-13 for 163 yards, including a pair of touchdown passes to senior Noah Olson (78 receiving yards).
On the ground, meanwhile, junior Konnor Hill racked up 107 yards and three scores on 13 carries, as the Pacers (2-6, 1-5 Metro Classic) accumulated 187 yards rushing.
Smith added a touchdown run and 24 yards on seven totes.
Smith's 41-yard run in the third quarter gave Shoreland a 49-0 lead before Thomas More (0-8, 0-6) got its lone score on an 88-yard kickoff return for a touchdown.
ST. JOHN'S NW MILITARY 37, CHRISTIAN LIFE 7
St. John's captured what was classified as a non-conference win in a game hosted by the Eagles at Central.
St. John's improved to 5-2, while Christian Life dropped its sixth straight after a 2-0 start to fall to 2-6.
No other details were available to the News by late Friday night.
Dan Truttschel, Mike Johnson and News correspondents Paul Spicuzza and Mike Ramczyk contributed to this report.