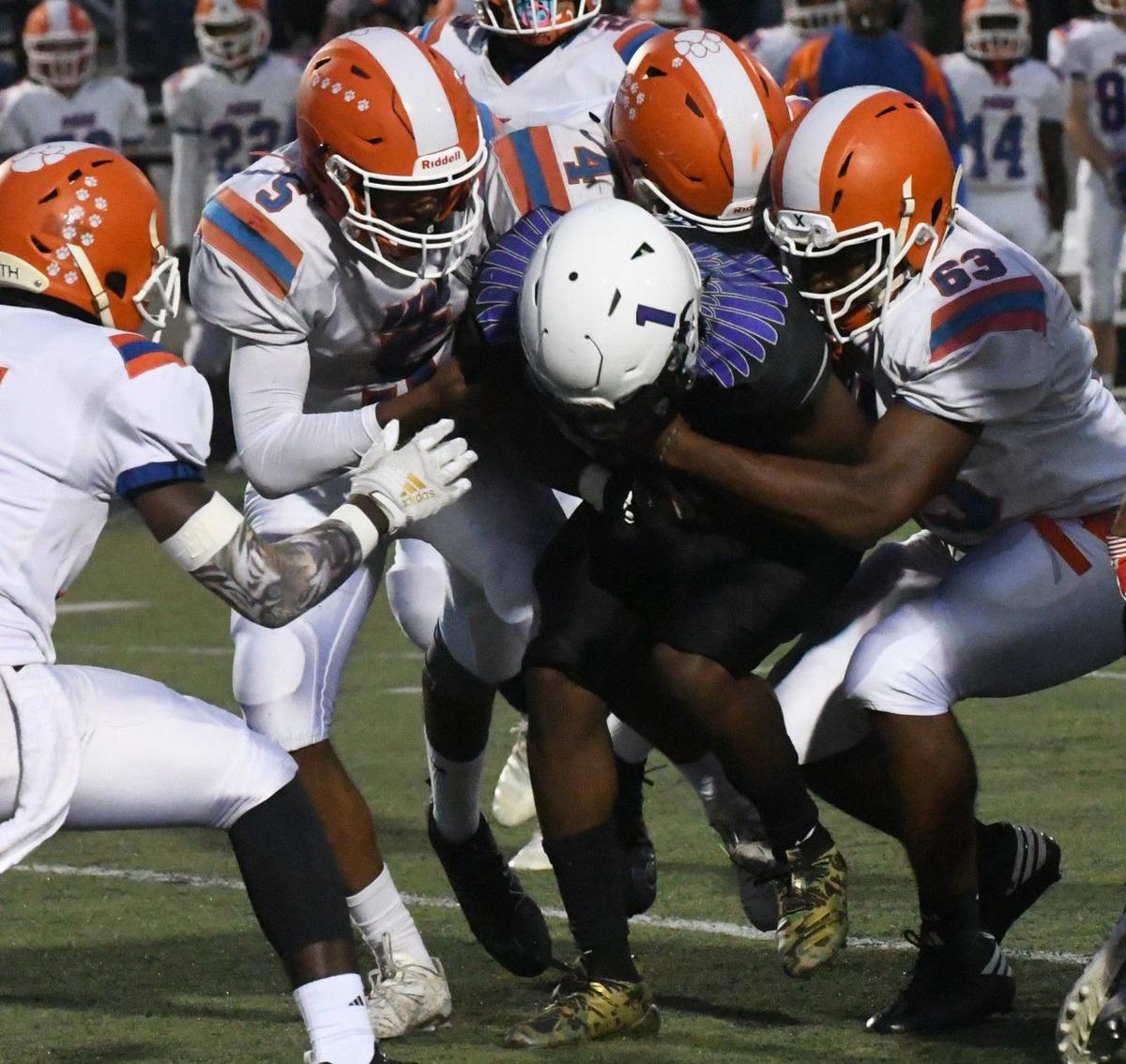 The Wilmot football team allowed the first seven points to Lake Geneva Badger in a key Southern Lakes Conference opener Friday night at Wilmot's Frank Bucci Field.
The Panthers scored the next 28.
Using a ball-control offense and a stifling defense that stoned the Badgers when Wilmot didn't have the ball, the Panthers dominated the final three quarters to remain undefeated with a resounding 28-7 victory.
Wilmot moved to 3-0, while Badger lost its first game of the season in dropping to 2-1.
Wilmot, Waterford and Burlington are each 3-0 overall and 1-0 in the SLC, and the Panthers go right into another huge SLC matchup in Week 4 at Waterford.
For now, though, Wilmot can revel in what it did to Badger on Friday night.
Slippery as ever, Wilmot senior quarterback Zack Watson had touchdown runs of 20, 3 and 22 yards and put the game way in the fourth quarter with a 39-yard touchdown pass to senior Joseph Tanski.
Watson finished with a game-high 121 rushing yards on 20 attempts and went 10-of-15 for 169 yards through the air without a turnover.
"We knew we had to be on our 'A' game playing a team like Badger, especially with that triple-option (offense that) they run to perfection," Watson said. "Our defense did a great job stopping the ball, and our line played their best game of the season. They made holes for me.
Junior Leo Falletti finished with five catches for 96 yards, while Tanski had 54 yards on three grabs.
Led by senior defensive end Connor Luoma and senior linebacker Cal Jenkins, Wilmot's defense held Badger to just 173 total yards and recovered two fumbles.
The Badgers entered Friday averaging 8.7 yards per rush in their first two games but had just 101 rushing yards on 28 carries, a paltry 3.6 yards per attempt, against the Panthers' stingy defense.
INDIAN TRAIL 18, RACINE PARK 14
Trailing by two scores with 3 minutes, 15 seconds left in its Southeast Conference opener Friday night, it looked like Indian Trail would need a miracle.
In less than two minutes, the Hawks' prayers were answered.
Indian Trail (2-1 overall) pulled within two points on a touchdown pass, recovered an onside kick and completed the comeback on a 27-yard scoring strike from Argjent Ismaili to fellow junior Clayton Bishop with 1:35 left to stun the visiting Panthers, 18-14, at Jaskwhich Stadium.
Park fell to 1-2 overall.
"The resolve of our coaches and our kids is amazing," Indian Trail coach Paul Hoffman said. "The kids kept fighting. They didn't give up until the last minute. We talk about that all the time, about having the focus, the discipline, the fight to finish every rep. That was the depiction of it right there."
Ismaili hit a leaping Fred Ferati, a senior, for a 9-yard touchdown pass in the right corner of the end zone with 2:37 remaining to set up the frenetic final moments.
Indian Trail sophomore Jamar Thompson recovered the onside kick to give the Hawks possession at the Park 43-yard line. Four plays later, Ismaili found a wide-open Bishop, who hauled in the short pass and sprinted to the end zone to give the Hawks their first lead of the night.
Facing a fourth-and-17 at the Indian Trail 24, Racine Park quarterback Ricky Canady was intercepted by senior Amariyon Lynch-Gordon to seal the win for the Hawks.
Indian Trail enjoyed a huge statistical advantage, as it piled up 440 total yards (174 rushing, 266 passing) to just 87 for the Panthers (28 rushing, 59 passing). Park ran just 13 plays in the second half for nine yards.
Racine Park coach Danny Hernandez, a former standout at St. Joseph, was disappointed with the outcome, but certainly not with what he saw from his team on the field.
"I'm always extremely proud of our kids," he said. "We feel like, in our locker room, we're always counted out. People don't give us a chance. It's another week where we had a fourth-quarter lead.
"We have to learn to close doors, (but) effort has never been a problem here."
BRADFORD 14, RACINE HORLICK 0
The Red Devils earned their first win of the season by shutting out the Rebels in an SEC opener at Horlick Field.
Bradford (1-2 overall) scored all its points in the first quarter on a 6-yard touchdown pass from sophomore quarterback Nate Olson to junior Brock Lampe — Lampe's first varsity touchdown — with 5:38 left in the opening frame and a 1-yard plunge by senior running back Will Darden with 1:11 remaining.
That was all Bradford's defense needed, as it held Horlick (1-2) to just 106 total yards.
"We started 11 sophomores tonight," Bradford coach Troy Bowe said. "We're super young, but they grew up a little tonight.
"... And I know (the Rebels) are real young, too. This is really the first time we played a team our same age."
Horlick lost quarterback Spencer Schick to an undisclosed injury and averaged a mere 2.7 yards per carry.
Fall arrived at Ameche Field, and with it came a stiff breeze and temperatures that dipped down to 58 degrees, bringing on the all-too-familiar portrait of chattering teeth and blankets.
The Knights arrived in much the same way, fiercely dispatching host the Trojans in an SEC opener to extend their winning streak over Tremper to eight games.
The Knights had the wind at their backs to open the game and played the entire opening quarter inside the Tremper 25-yard line thanks in large part to the booming leg of standout left-footed kicker Dragan Kesich. A 6-foot-4, 245-pound behemoth, Kesich booted each of his nine kickoffs through the end zone and only missed a 51-yard second-quarter field-goal attempt into the wind when it sailed wide left.
"It was a combination of things," said Tremper coach Jared McGranahan, whose program slipped to 8-23 in his first three-plus seasons at the helm. "We didn't execute very well, and they were able to really catch the momentum.
"They have a kicker that kicks everything through the back of the end zone, (so) we were stuck going into a pretty strong wind and we couldn't handle them up front. So we couldn't run the ball, and then we couldn't throw the ball, and soon we were down 21-0."
After the Trojans (1-2 overall) went three-and-out to start the proceedings, Oak Creek (2-1) needed just six plays to cover 35 yards and burst to a 7-0 lead, capping the drive on 3-yard keeper by junior quarterback Jasin Sinani off right tackle with 8:03 remaining in the opening quarter.
The Knights resumed the early onslaught a tick over two minutes later after recovering a fumble by Tremper's Jordan Uribe at his own 9, punctuating a three-play march with 1-yard plunge by sophomore fullback Gabe Alyousef.
Oak Creek, which has won the last five meetings between the two programs by an average of 51-5, then forced another three-and-out and scored five plays later on a 6-yard sweep by senior halfback Ryan Hock, stretching the lead to 21-0 with 3:15 still remaining before the teams switched sides.
BURLINGTON 56, CENTRAL 29
Thanks to some trickery and the spirited running of senior Myles Kazumura, the visiting Falcons team played the Demons evenly for one half for the second straight season in an SLC opener at Don Dalton Stadium.
The Falcons dug into the playbook late in the second quarter, as sophomore Jakob Simmons hit Kazamura for an 80-yard score to Burlington, 21-21. But Central's momentum was erased with two Burlington touchdowns in two minutes, and the Demons later buried the Falcons with 35 unanswered points.
Burlington's Zach Wallace ran for four touchdowns, two of which were 69 yards.
Burlington (3-0 overall) has a high-powered offense that's putting up 45 points per game, and it spoiled a season-high in points from Central (0-3).
"Tyson's doing a good job over there, and they came ready to play," Burlington coach Steve Tenhagen said about Central coach Tyson Mengel.
As for Mengel, the defeat was chalked up to inexperience and a dominant Burlington offense.
"We're a young team, a lot of sophomores playing," Mengel said. "Wallace is a tough runner. He ran the ball really well on us tonight."
Wallace, a junior, finished with 274 rushing yards on 16 carries.
Burlington senior quarterback Dalton Damon completed 9-of-15 passes for 156 yards and two touchdowns, one each to Dylan Runkel and Otto Traxinger.
Burlington piled up 524 total yards, compared to 314 for the Falcons, a season high.
Kazumura racked up 172 total yards and three touchdowns, two via the ground.
Senior Gavin Carlson hit sophomore Michael Mulhollon for a 46-yard touchdown pass.
"Tough loss," Kazumura said. "The offense played well, but we struggled tackling a little bit. We gave it our all from opening kickoff to the last snap of the game. That's all you can ask."
ST. JOSEPH 56, ST. THOMAS MORE 8
The host Lancers rolled past the Cavaliers in a Metro Classic Conference opener at Bradford Stadium to improve to 3-0 overall.
St. Joseph dominated from the start, accumulating a 28-0 lead after one quarter and a 42-0 halftime lead against winless Thomas More (0-3).
Senior Jake Gessert ran for 145 yards on just 12 carries for the Lancers, including touchdown runs of 25, 5, 42 and 70 yards. He now has 11 touchdowns on the season.
Sophomore quarterback Jacob Ashmus threw for 91 yards and a score and added a rushing touchdown, freshman Luke Schuler notched a touchdown reception, freshman Calvion Jones added a scoring run and junior linebacker John Skurski opened the scoring with a 20-yard interception return for a touchdown.
RACINE LUTHERAN 62, SHORELAND LUTHERAN 21
Senior running back Tyler Tenner continued on his quest for history for the Crusaders, as he rushed for 227 yards and three touchdowns to lead visiting Racine Lutheran past Shoreland in a Metro Classic opener.
Tenner now has 636 rushing yards this season, 1,618 shy of the state high school career record set last year by Iola-Scandinavia's Bryce Huettner.
The Crusaders (3-0 overall) had 490 total rushing yards.
Junior Konnor Hill had 80 yards on five catches for the Pacers (1-2), including touchdown receptions of 16 and 51 yards from junior quarterback Sawyer Smith.
Smith finished 10-of-21 for 173 yards with a touchdown and two interceptions. Sophomore tight end Michael Reed had four catches for 89 yards for Shoreland.
Racine Lutheran, last year's WIAA Division-6 state runner-up, was ranked No. 2 in Division-6 in the latest WisSports.net state coaches poll.
RANDOLPH 42, CHRISTIAN LIFE 0
The visiting Eagles were blanked in a non-conference game for their first loss of the season.
CLS (2-1) threw four interceptions.
Senior running back Jacob Shaffer led the Eagles with 88 rushing yards on 21 carries and 22 yards on two receptions.
Randolph (3-0) led 28-0 at halftime.
For more on all of Friday night's action, pick up Sunday's print edition of the News.
Mike Johnson, Dan Truttschel, Peter Jackel of Lee Enterprises and Kenosha News correspondents Mike Ramczyk and Paul Spicuzza contributed to this report.