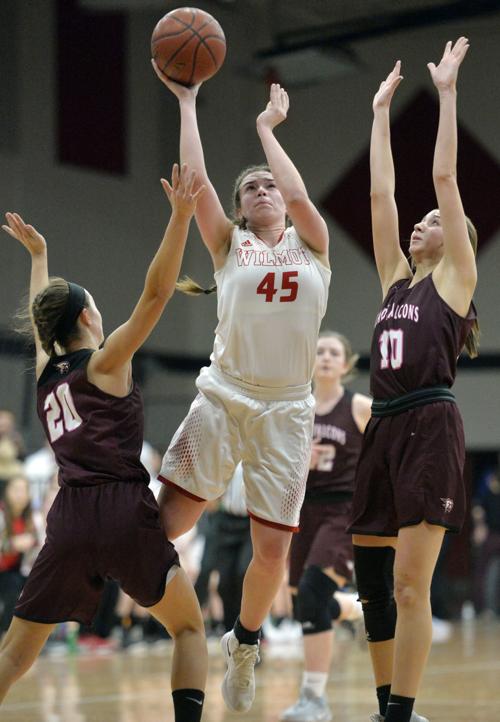 Through the first half of Thursday's rivalry battle between the Wilmot and Central girls basketball teams, it appeared the Panthers had things well in hand.
And if there was any doubt, that certainly was erased in the game's final 20 minutes.
Wilmot held the visiting Falcons to just four second-half field goals and pulled away for a dominating 67-35 Southern Lakes Conference victory.
The win improved the Panthers to 4-4 overall and 4-1 in the SLC, while Central fell to 0-10 and 0-5. Wilmot and Lake Geneva Badger remained tied for second place behind unbeaten Waterford, which enters a game tonight at Union Grove at 4-0 in conference play.
Wilmot built a 32-23 lead at the intermission before it outscored the Falcons by 23 points in the second half.
Eleven of the 12 Wilmot girls who saw action scored.
Delaney Brown led the way with 10 points, followed by Riley Alexander (eight points), Kenzi Ketterhagen (eight points), Haley Lamberson (six points), Karina Leber (six points, 11 rebounds), Aryanna Rita (six points, six rebounds), Karoline Klahs (six points, five steals) and Kiya Thompson (six points, six rebounds).
Julia Hickey chipped in with five points and seven steals.
Wilmot finished the game with 22 steals.
Jill Adams led the Falcons with 12 points, followed by Ellie Witt and Sara Backus each with seven. Backus also had six rebounds, while Grace Anderson had five.
Boys basketball
Shoreland Lutheran 61, Waterford 58
Sophomore forward Quentin Bolton blocked a three-pointer at the buzzer to help lift the Pacers to a non-conference victory over the host Wolverines.
Shoreland (2-5) outscored Waterford 32-21 in the first half and held on for the win.
"We played an excellent first half defensively and offensively," Shoreland coach Paul Strutz said. "We had a great effort tonight."
Waterford (1-7) heated up from the perimeter late in the game and trimmed Shoreland's lead to one. Bolton responded by hitting three consecutive free throws to pad the Pacers' lead to four.
Bolton grabbed seven rebounds and hit 7-of-9 shots from the field for a game-high 23 points. Konnor Hill added 14 points, followed by Sawyer Smith with eight.
Hunter Karpinski knocked down 7-of-12 shots from the field to pace Waterford with 18 points.
Dan Truttschel and Scott Koker