As a professional, Melvin Gordon's talent resides in California.
The former Bradford football star is preparing for his fifth season as the Los Angeles Chargers' featured running back. He was drafted 15th overall in the 2015 draft, when the franchise was still in San Diego.
But Gordon will always have two places in his heart, wherever his NFL career takes him:
Kenosha and Madison.
Kenosha, obviously, is where Gordon grew up and turned into a football star. He went on to a record-setting career at the University of Wisconsin, becoming one of the most electrifying Badgers to ever hit the turf at Camp Randall Stadium.
So, when he has the time, Gordon does as much as he can to give back to both communities.
On Saturday from 9 a.m. to 1 p.m., Gordon and former Wisconsin teammate James White — now a running back for the New England Patriots who's captured a pair of Super Bowl titles in his five-year career — are hosting a youth football clinic at the McClain Center in Madison.
The paid clinic — it's $75 per person — is a non-contact camp for ages 6-18 and includes T-shirts, lunch and awards. Gordon and White will autograph a maximum of two items for $25 each.
Online registration for the camp was closed as of Wednesday evening, but a limited number of walk-ups will be accepted.
Then, on July 19 — right before training camps start — Gordon and former Bradford teammate and close friend Trae Waynes, a cornerback for the Minnesota Vikings, will collaborate to host an event in Kenosha, as they've done for several years now.
Instead of a youth football camp, though, this year Gordon and Waynes will host a "Dodgeball Night of Fun" — with Bo Jackson as a special guest — at Mahone Middle School.
Gordon began mandatory minicamp with the Chargers on Tuesday. After this week, the team won't practice together again until training camp begins in late July.
Last season, Gordon rushed for 885 yards and 10 touchdowns and caught 50 passes for 490 yards and four more scores and earned his second Pro Bowl nod. The Chargers made the playoffs for the first time in Gordon's career, and he had a pair of rushing TDs in the postseason.
But after a 23-17 win at Baltimore in the wild-card round, the Chargers were blown out, 41-28, in New England by the eventual Super Bowl champion Patriots in the divisional playoffs.
On Monday afternoon, Gordon took time to chat with Kenosha News sports editor Mike Johnson about his offseason, his clinic with White, dodgeball and other topics:
Question: How's the offseason going? Did you go through OTAs (organized team activities)?
Answer: "It's going well. I didn't go to OTAs, but (during the) offseason I've been in Florida training pretty hard. I'm excited to see what we bring this year."
Q: The end of last season left a little bit of a bad taste in your mouth, right?
A: "For sure, man. Terrible way to go out, but we still had a great year."
Q: How did you and James White get together to organize Saturday's clinic in Madison, and what are your goals for it?
A: "We've kind of been wanting to do it for a while, me and James. With our schedules, it's just hard to find the right time to be able to get it done. Finally, this year we just figured it out. We just wanted to give back to the communities. We just wanted to do something.
"I've seen (Seattle Seahawks quarterback and former Wisconsin quarterback) Russell (Wilson) plenty of times do his camps there, and I always thought it would be cool if I came back and did one. I always told James it would be dope if we could do one together, considering we both went here, put a lot of work in (at) the McClain Center and Camp Randall."
Q: So you still maintain pretty close contact with James White then, right?
A: "Yeah. He's actually the reason I came to Florida to start training in the first place."
Q: Where do you train in Florida?
A: "I'm in Fort Lauderdale."
Q: Which players train there besides you and James?
A: "Giovani Bernard (Cincinnati Bengals) trains out there, Travis Benjamin (Chargers) trains out there, Lamar Miller (Houston Texans) trains out there, Carlos Hyde (Kansas City Chiefs) is there. Alfred Blue (Jacksonville Jaguars) was there.
"You've got a lot of DBs. Teddy Bridgewater (New Orleans Saints) trains there. Alvin Kamara (Saints) pops in every once in a while. Mike Thomas (Saints) pops in every once in a while. We've got a good group of guys."
Q: What makes that such an appealing training destination?
A: "It's just a good blend of on-field activities, as far as just drills and the coaches they have, speedwork mixed with power and stuff in the weight room, explosiveness things in the weight room. ... I think it's a good spot for me."
Q: As close as you are with James, he has the one thing you want in Super Bowl rings. Does he ever show those off a little bit?
A: "No, James is not the type to show off and put it in your face, but you can definitely tell that he's happy to be a champion. ... It's kind of crazy, because James is the only one (during their time at Wisconsin) that never won a bowl game. Now, he's the one who's winning all the Super Bowls. If you'd have told me that'd be the difference, I'd have picked his route."
Q: So to be honest, you'd have traded your bowl win (the 2015 Outback Bowl, a 34-31 Wisconsin victory over Auburn in OT) for a Super Bowl?
A: "Well, I only got one bowl (win), so I probably wouldn't have traded it. It's hard to say. That bowl game I had, it meant a lot to me (Gordon rushed for 251 yards and three TDs). I never had won one, so it was dope to on my way out, to help those guys (Gordon declared for the NFL Draft after that, his junior season).
"That was actually one of my favorite games. It would be hard to take it back, but boy I'll tell you, I'd take a couple (Super Bowl) rings."
Q: I remember a long touchdown run you had on a big fourth-down play in that game. Was that one of your most memorable runs?
A: "Yeah, man, it was crazy. That whole week, I was sick. I was super sick. I thought I had the flu. ... I missed a couple days of practice. People thought I was just sitting out, just to not play, not to get hurt. They didn't know how sick I was. I just needed to pull through that and help the boys out and get them that first bowl win in a while.
"That felt good, man."
Q: That's interesting, because it's become a topic of debate in recent years in college football. Some players, like yourself during your junior season, who are leaving school early and know they're going to get drafted are sitting out bowl games. That seems like something that you had no intention of doing?
A: "I was too close with my teammates to let them down. Some guys feel different, and I get it. At the end of the day, it's a business on both ends. But I was just so close with the guys I came in with. There was no question in my mind that I wasn't going to give everything I had in that game. I had to.
"I owed (those) boys that. We'd been through so much, ups and downs. There was no way in hell I was letting those boys go out with a loss right there."
Q: I saw on social media recently that you're doing a dodgeball event in Kenosha this summer with Trae Waynes at Mahone. That's in July, correct?
A: "Yes."
Q: That's a unique thing. Is it like a tournament?
A: "Yeah. It's definitely just like a dodgeball tournament. I think it's going to be dope. I'm excited. We usually do like a camp for younger kids, but I wanted to mix it up this year. Do a 7-on-7 (football tournament at Bradford the next day), but instead of the little kids' camp, do the dodgeball tournament, and then next year do the little kids' camp (again).
"We try to switch it off. I just wanted to change it up. ... Hopefully people come out and support it. I think it'll be fun, just a nice way to just get out (and) do something different."
Q: Are you doing the 7-on-7 tournament at Bradford the next day, too?
A: "Yes. That I'll be doing every year."
Q: Why did you choose dodgeball? Does it bring back gym class memories? Everyone loves dodgeball, right?
A: "I think Mr. (Ron) Waynes and Mr. (Jared) D'Angelo at Mahone used to do a little dodgeball tournament, so we used to go to that. And me and Trae (were) like, 'Man, bro, let's switch it up this year and let's do that, because I remember it being fun.' I didn't know that they still did that, and they do (Mahone does hold an annual dodgeball tournament).
"I was like, 'I'm definitely down to do that, bro. I'm definitely with that.' He was like, 'Bro, I've been wanting to do that.' I was like, 'Well, me too, so let's get that done this year. ... Let's just have everyone come and do their own teams.' We have a little trophy and awards for the guys, for the people that win."
Q: Are you an outstanding dodgeball player?
A: "No, I'm definitely average. I'm there for the good time. I was never the best player on the dodgeball thing, but my competitiveness gets me through."
Q: You're a Pro Bowl running back in the NFL, Melvin. How are you not a great dodgeball player?
A: "Oh, I'm decent, now. But you've got some guys that go all out. And I'm (not) taking the chance."
Q: I suppose at this point in your career don't want to get banged up in a dodgeball tournament, right?
A: "Yeah. You know, if I play it will be low-key."
Q: To switch gears, as you go into minicamp, how are you feeling physically compared to the end of last season, when every player is dealing with injuries?
A: "Yeah, I'm feeling solid. I'm solid. I've been grinding and grinding to get back healthy and get ready to make this run. ... It's crazy how fast things go, but that's just how it is, and I'm excited."
Q: The end of last season didn't work out the way you wanted, but you did win a playoff game in your first postseason appearance as a player. Did getting a taste of playoff football make you even hungrier this offseason?
A: "Definitely, definitely more motivated. To get in that position and have it end the way it did, that's tough. We can't say we're a young team anymore. A lot of us have been in that fire. We know what it takes, each and every week. If we cross paths with New England — there's a great chance we will — we know we're going to have to be ready.
"We know that they're going to gameplan. They're going to have a plan, and their guys are going to come play, regardless if they're looked at as old, slow, or whatever the case may be — or not talented enough. They always make a way, and you have to be ready for anything they throw at you. We've got to get there."
Q: Now I have to ask you an NBA-related question. Do I have this correct that on Twitter I saw you're a Raptors fan?
A: "No, definitely not a Raptors fan. I'm just going for the Raptors right now, because I don't want Golden State to win."
Q: What do you have against Golden State?
A: "They just win too much. They're like New England. You just want to see someone else take the 'ship."
Q: Did you follow the Bucks during their run?
A: "Heck yeah, man. I'm a big Celtics fan. I'm a big Kyrie (Irving) fan, let's just put it like that. But I wanted the Bucks to take it, man. That would've been so dope for the city and for the state. I was a little upset with that, but I think next year we've definitely got a shot to take it all the way."
Q: Do you appreciate watching an athlete like Giannis. It's a different sport, obviously, but from one athlete to another, what's it like to watch him?
A: "Man, he's lights-out. You've got athletes, you've got freaks of nature."
Q: So you would consider him a freak of nature?
A: "Oh, heck yeah."
Q: If you played him in dodgeball, who would have the upper hand?
A: "I think I'd be able to get him, man. He's so big, it's a lot of area to hit."
Gordon Waynes Camp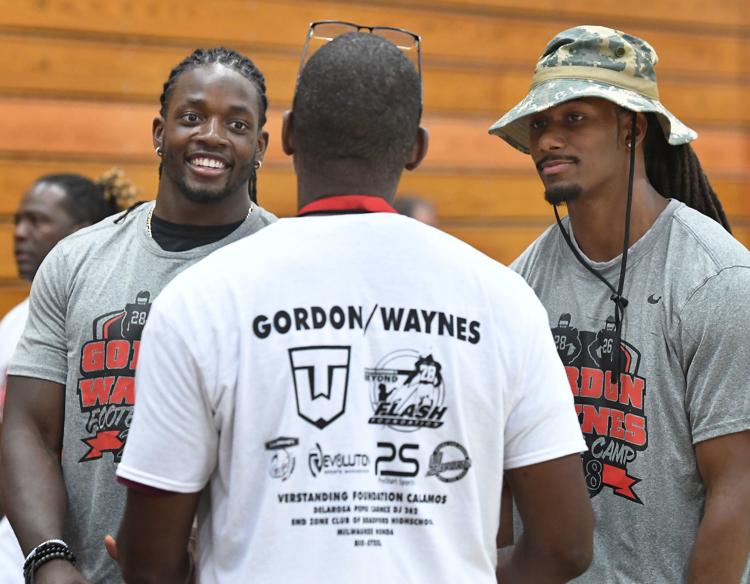 Gordon Waynes Camp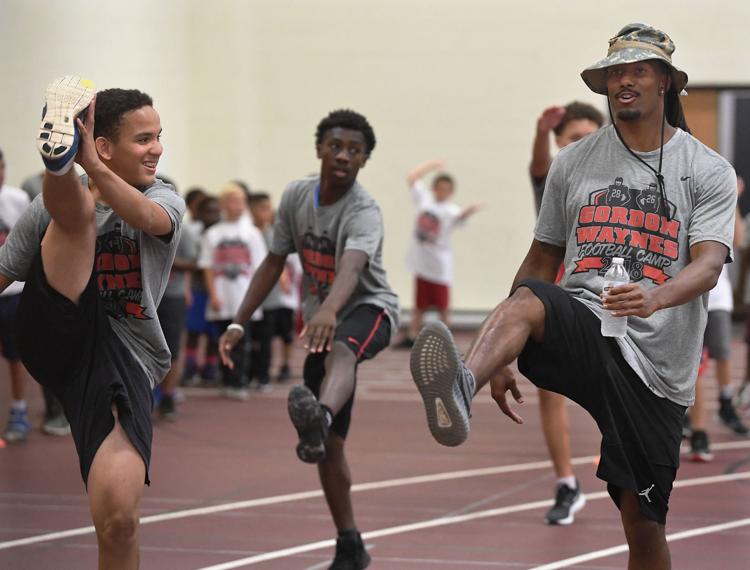 Gordon Waynes Camp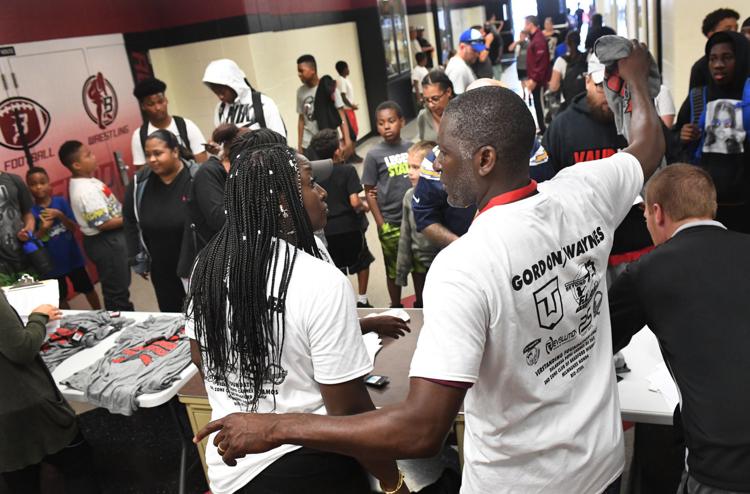 Gordon Waynes Camp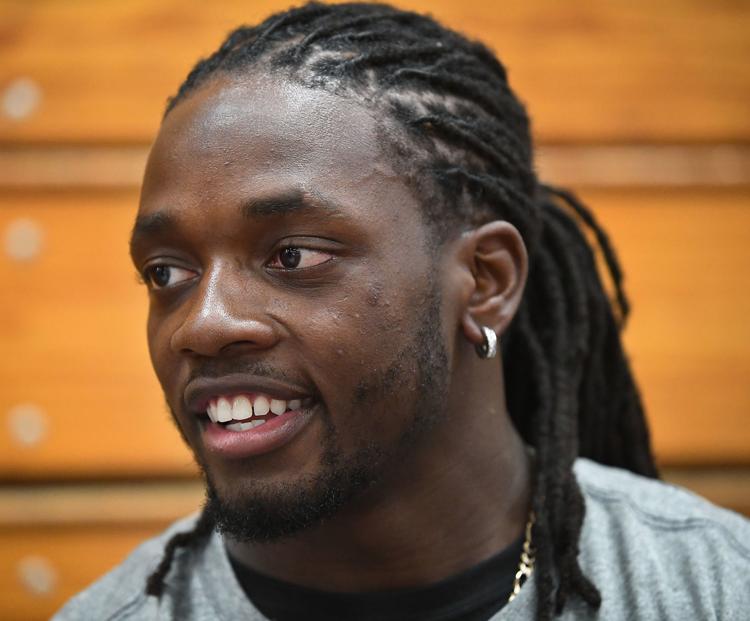 MELVIN GORDON FOOTBALL CAMP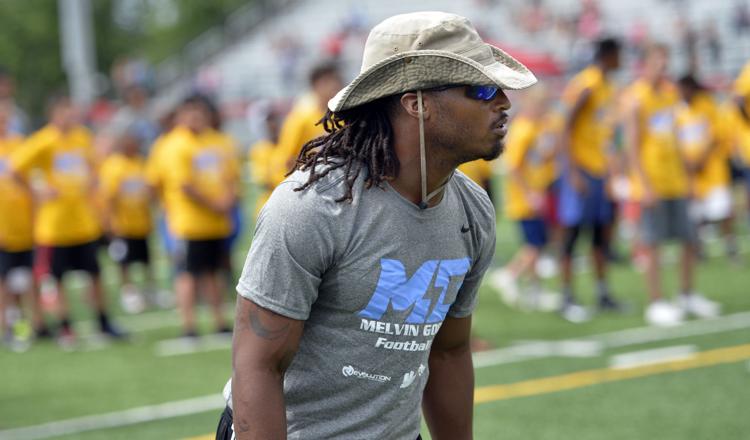 MELVIN GORDON FOOTBALL CAMP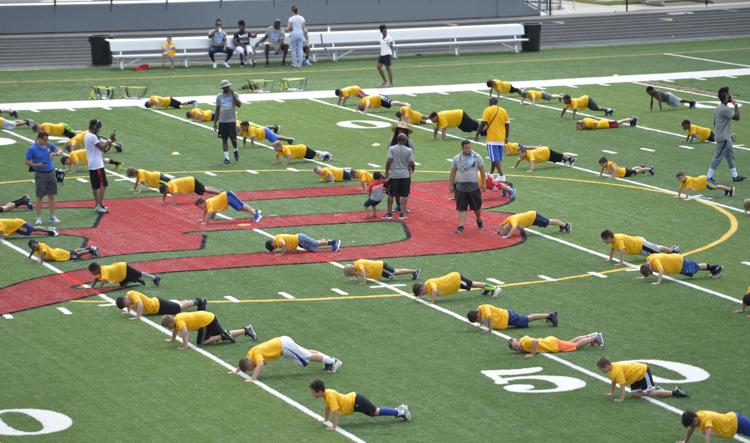 MELVIN GORDON FOOTBALL CAMP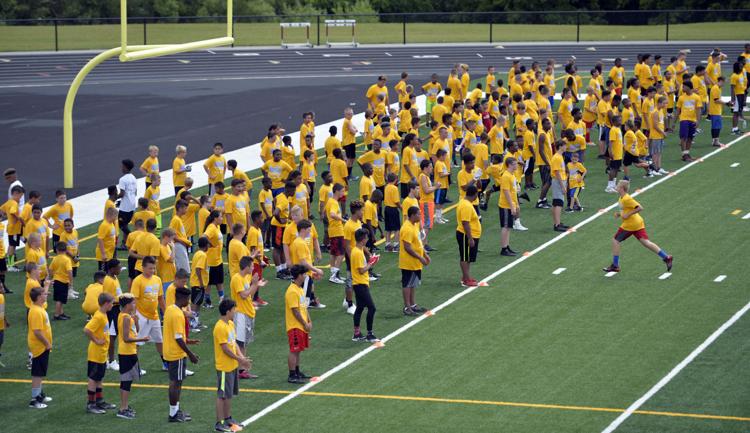 MELVIN GORDON FOOTBALL CAMP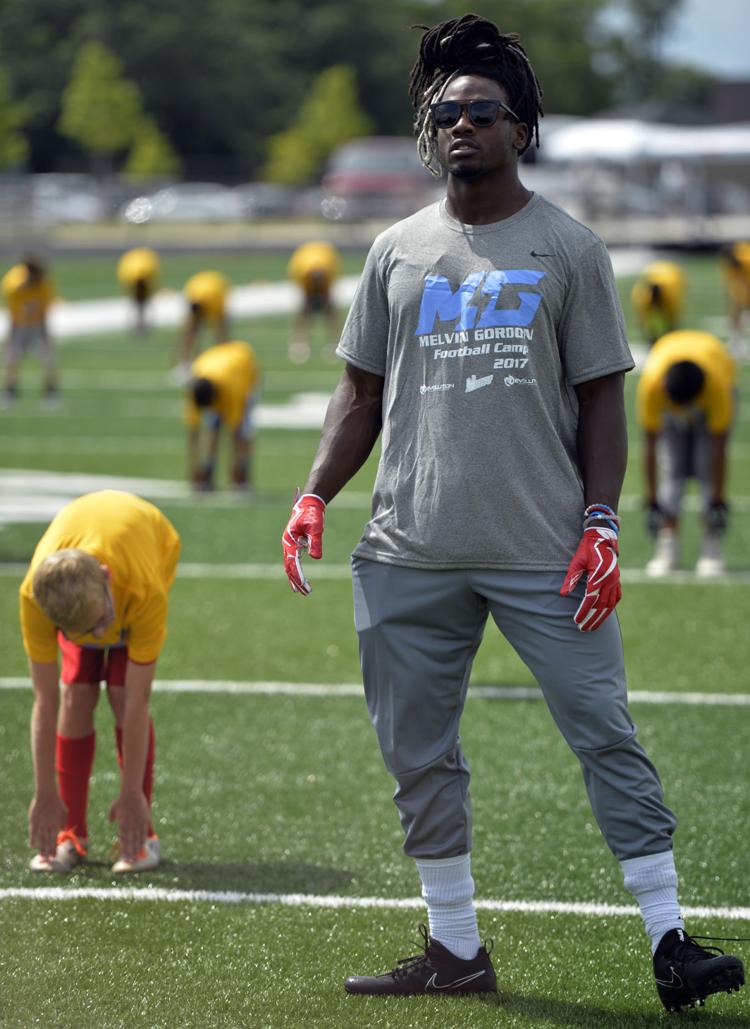 MELVIN GORDON FOOTBALL CAMP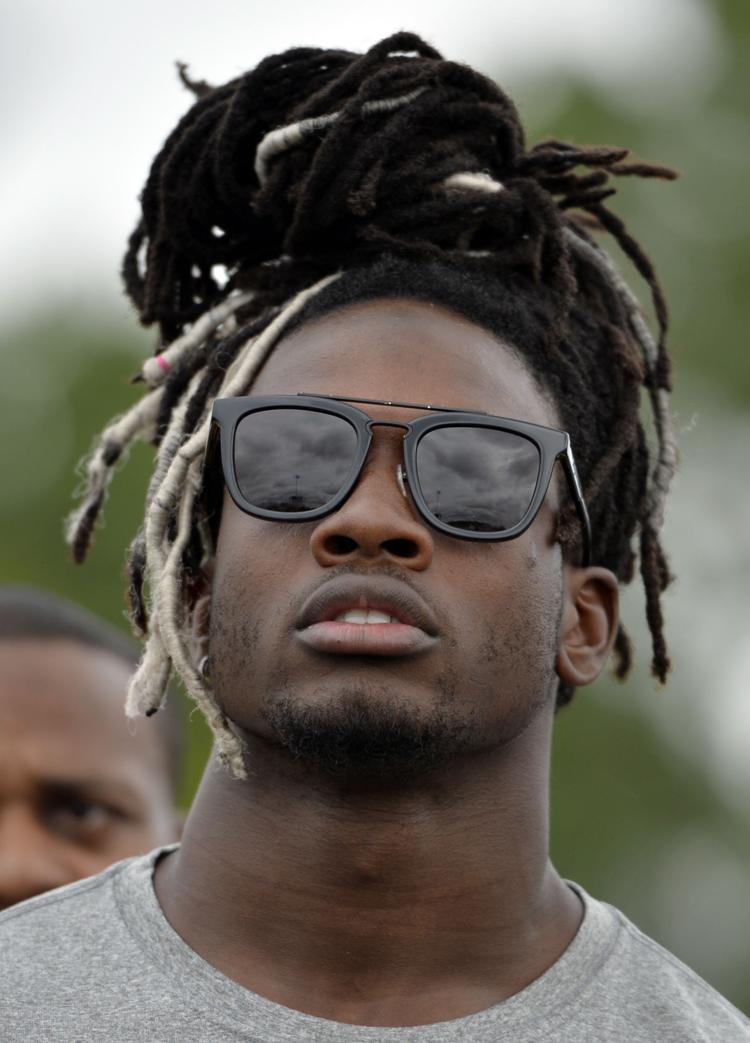 MELVIN GORDON FOOTBALL CAMP

MELVIN GORDON FOOTBALL CAMP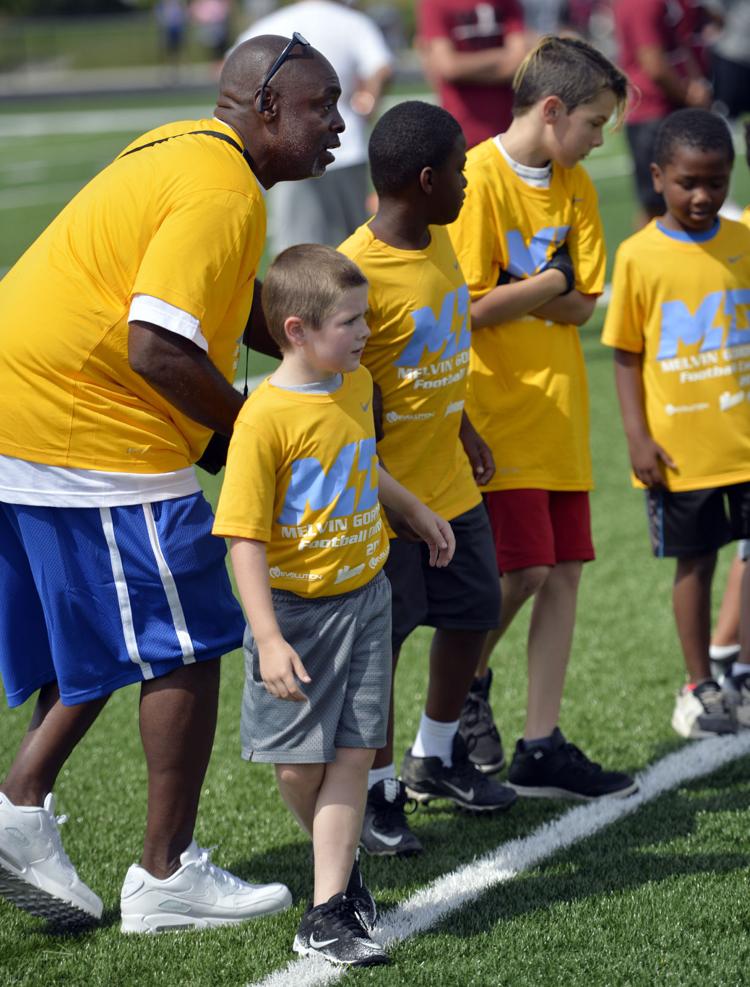 MELVIN GORDON FOOTBALL CAMP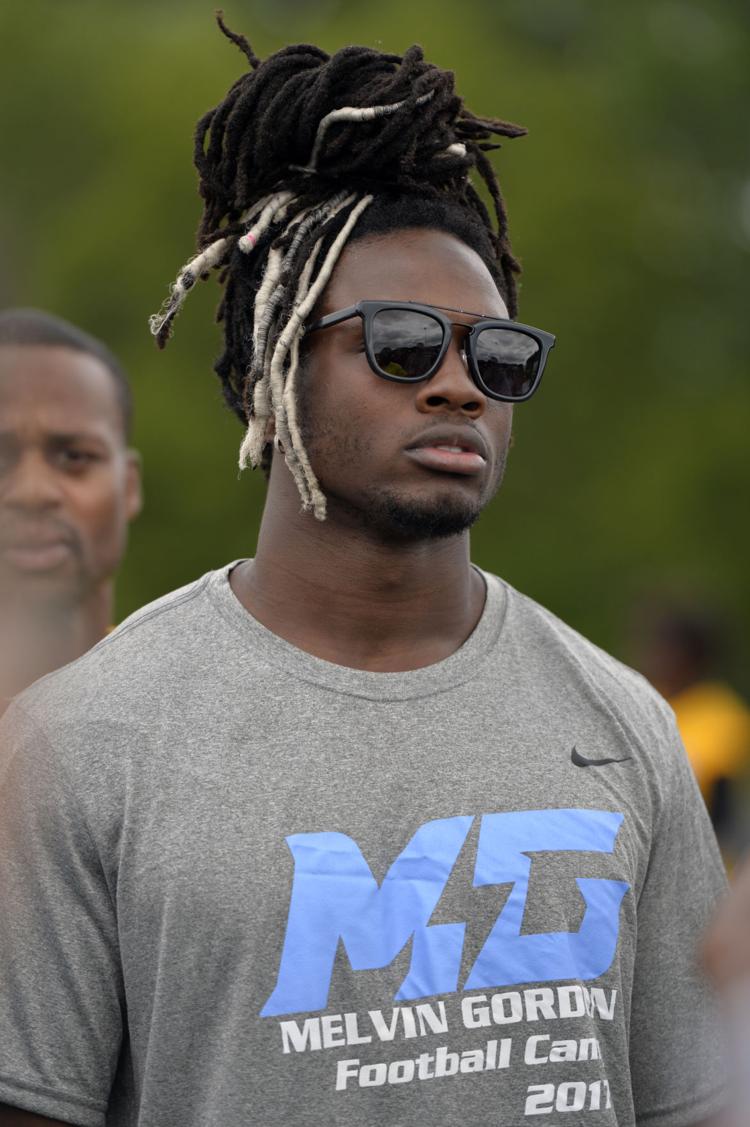 MELVIN GORDON FOOTBALL CAMP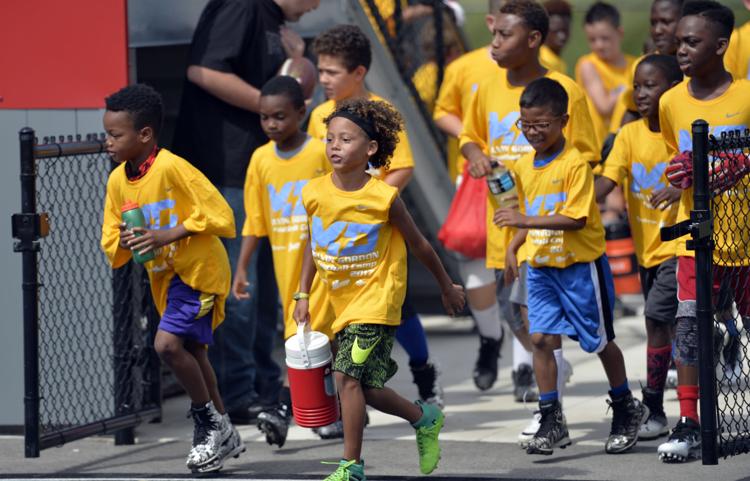 MELVIN GORDON FOOTBALL CAMP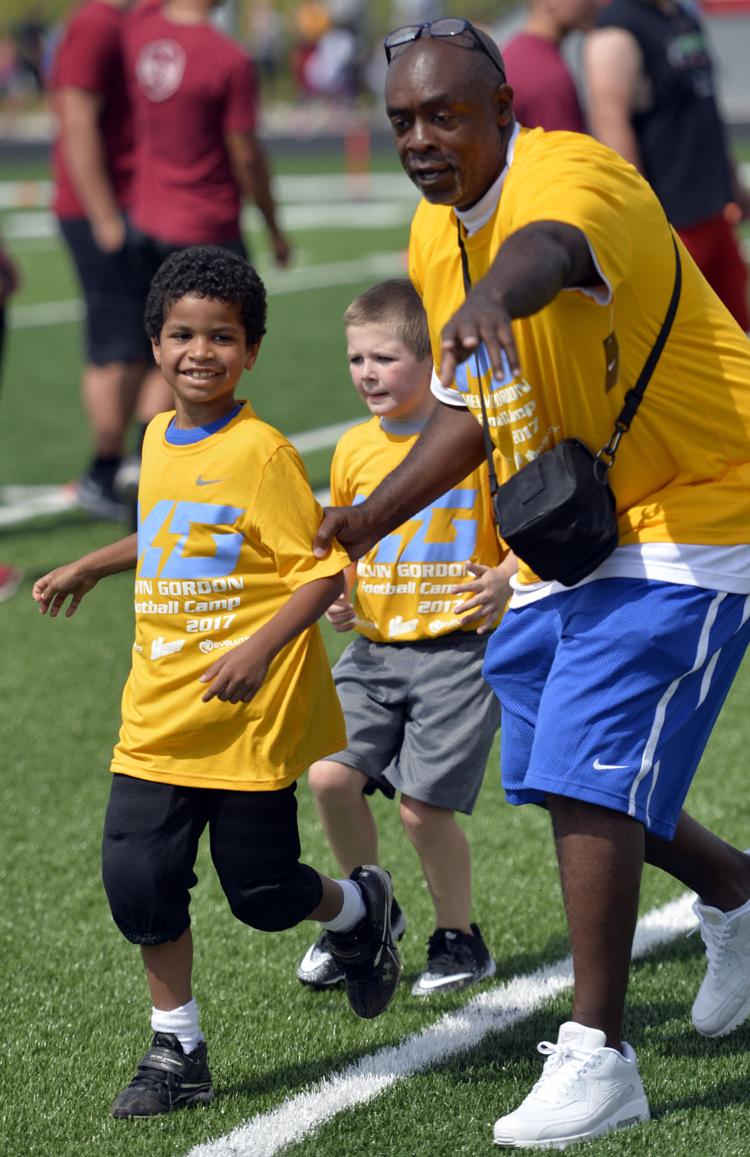 MELVIN GORDON FOOTBALL CAMP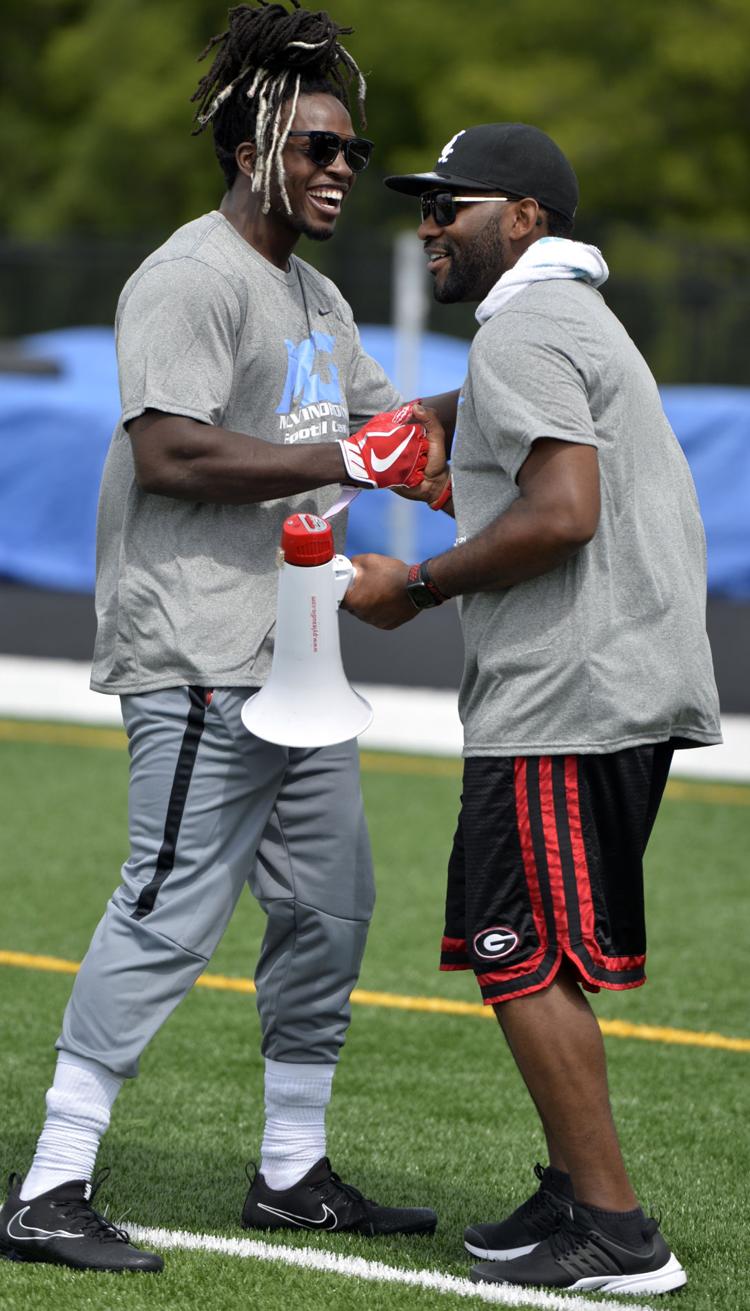 MELVIN GORDON FOOTBALL CAMP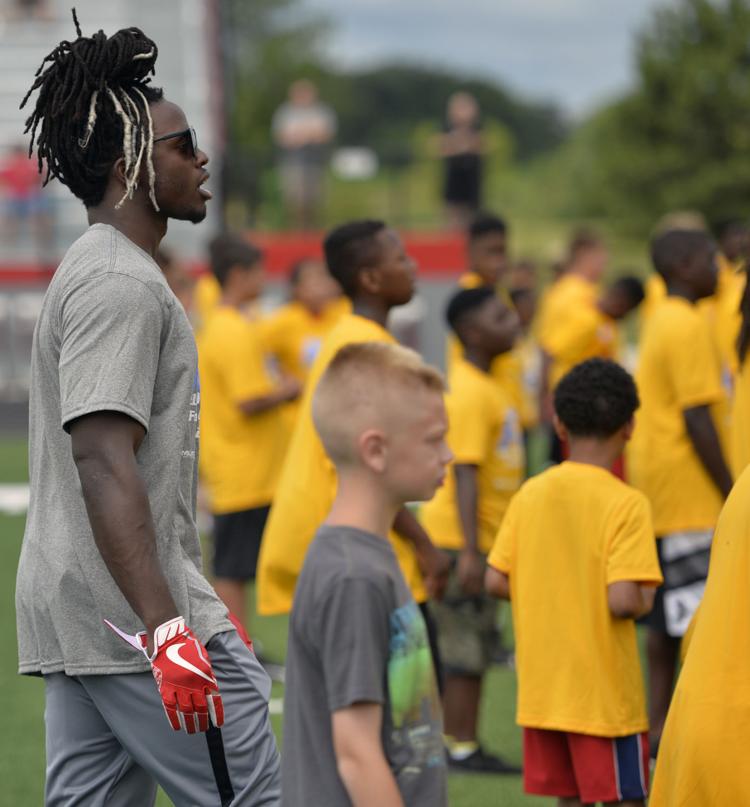 MELVIN GORDON FOOTBALL CAMP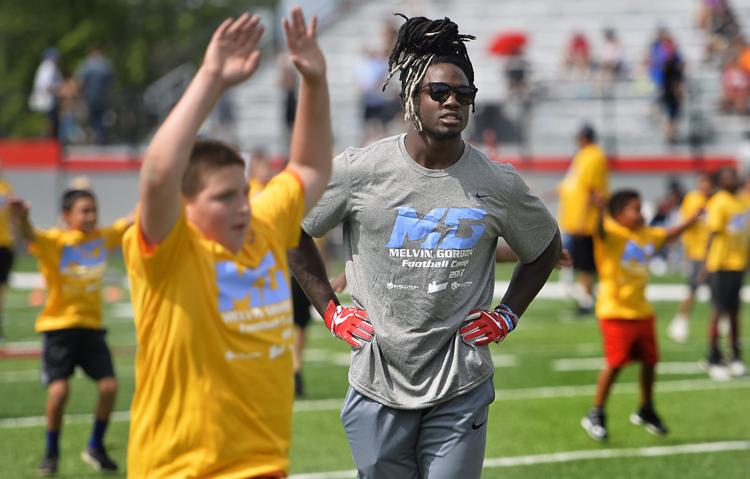 MELVIN GORDON FOOTBALL CAMP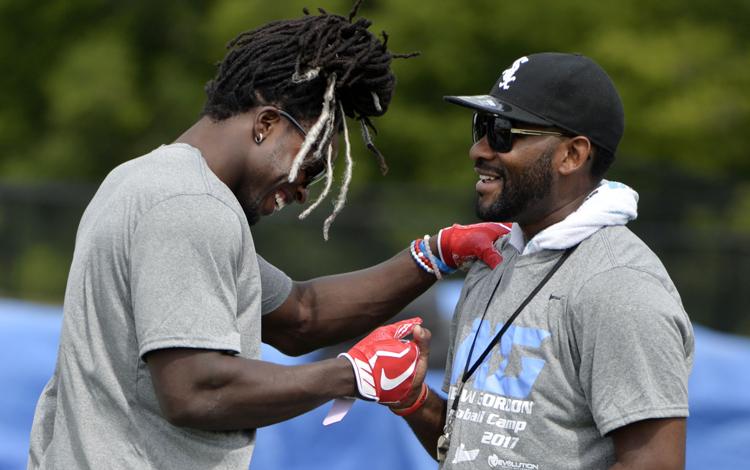 Behind the Lens - Sean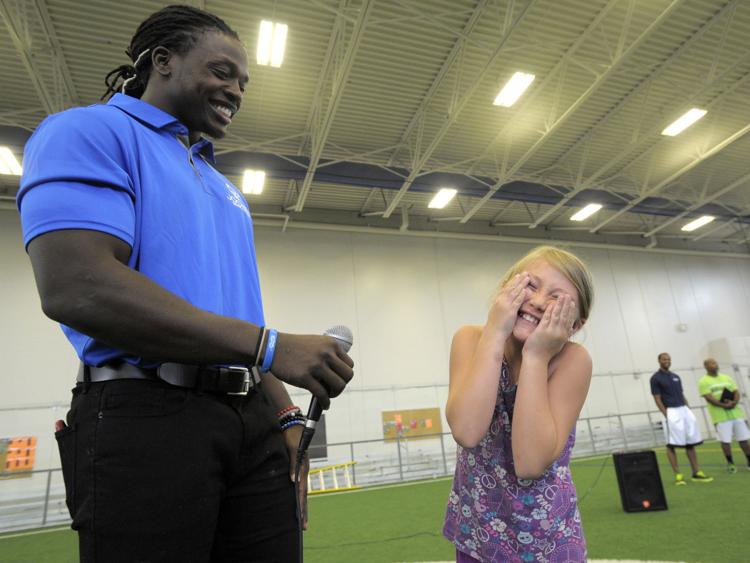 KINGFISH ROCKFORD MELVIN GORDON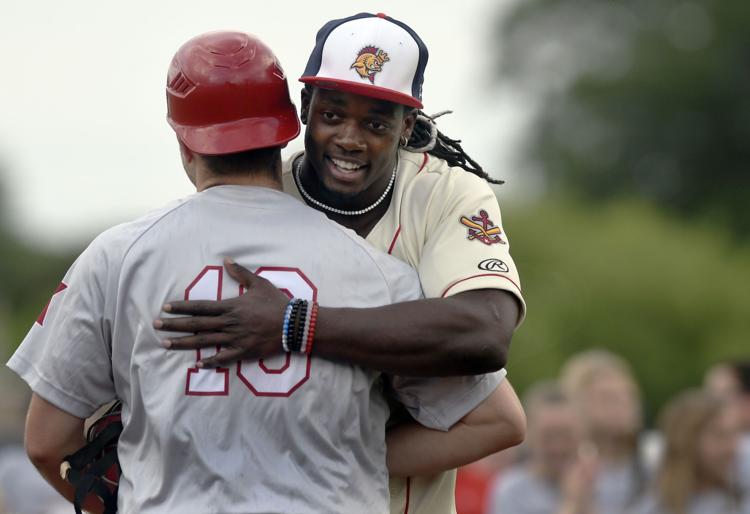 KINGFISH ROCKFORD MELVIN GORDON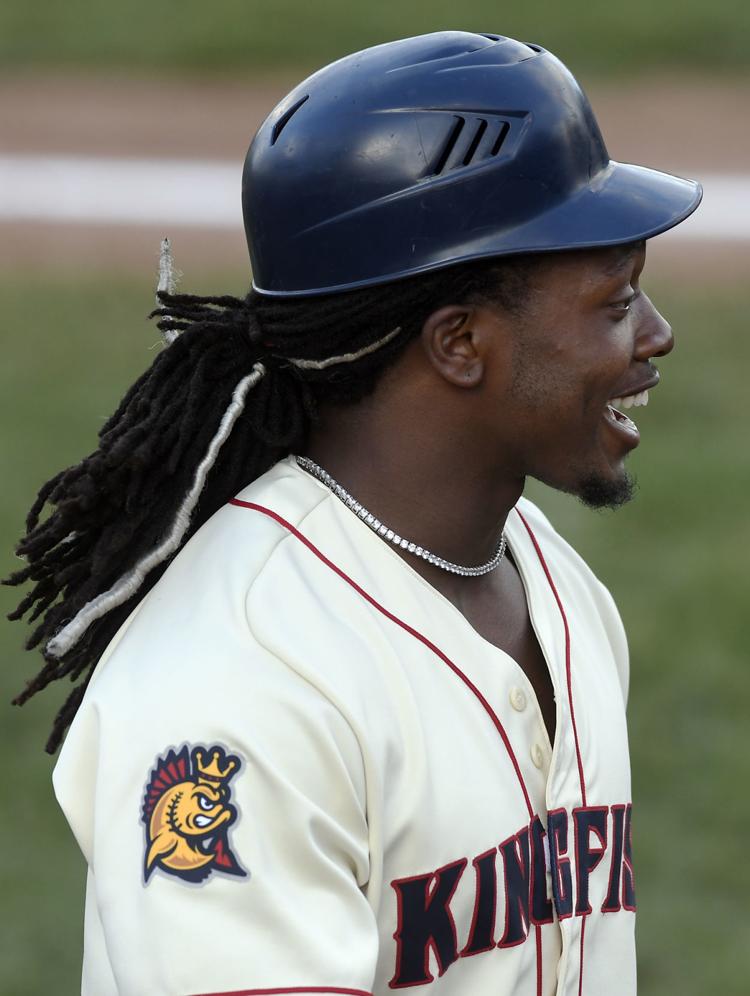 MELVIN GORDON AT BOYS AND GIRLS CLUB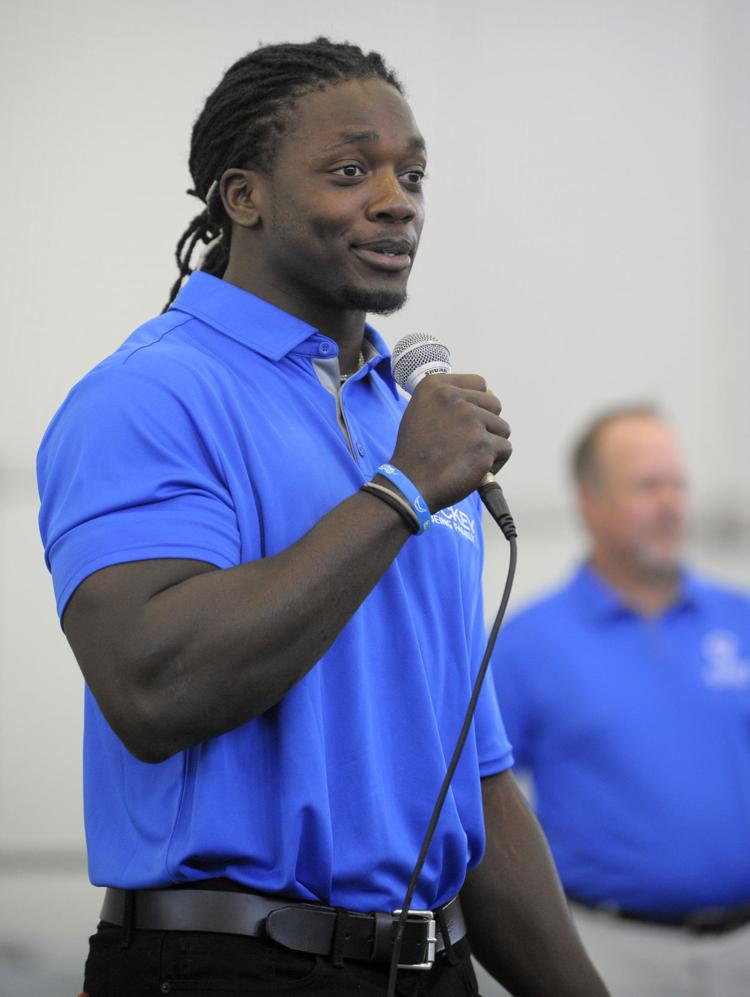 MELVIN GORDON AT BOYS AND GIRLS CLUB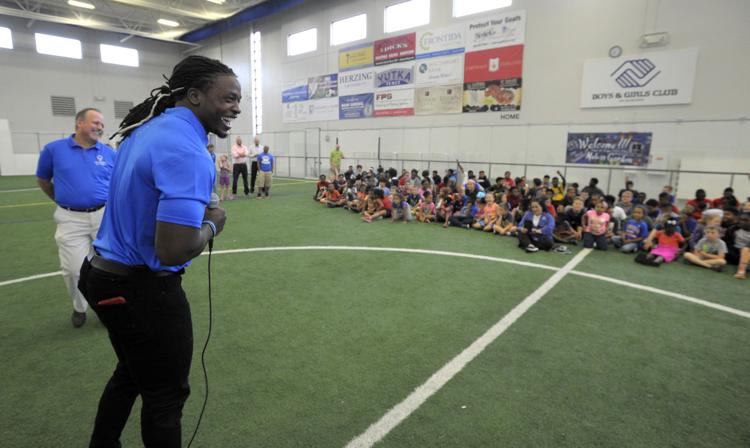 MELVIN GORDON AT BOYS AND GIRLS CLUB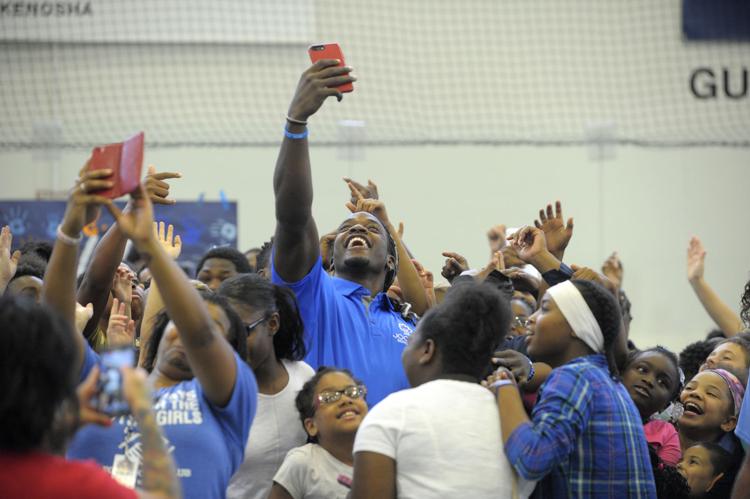 MELVIN GORDON AT BOYS AND GIRLS CLUB