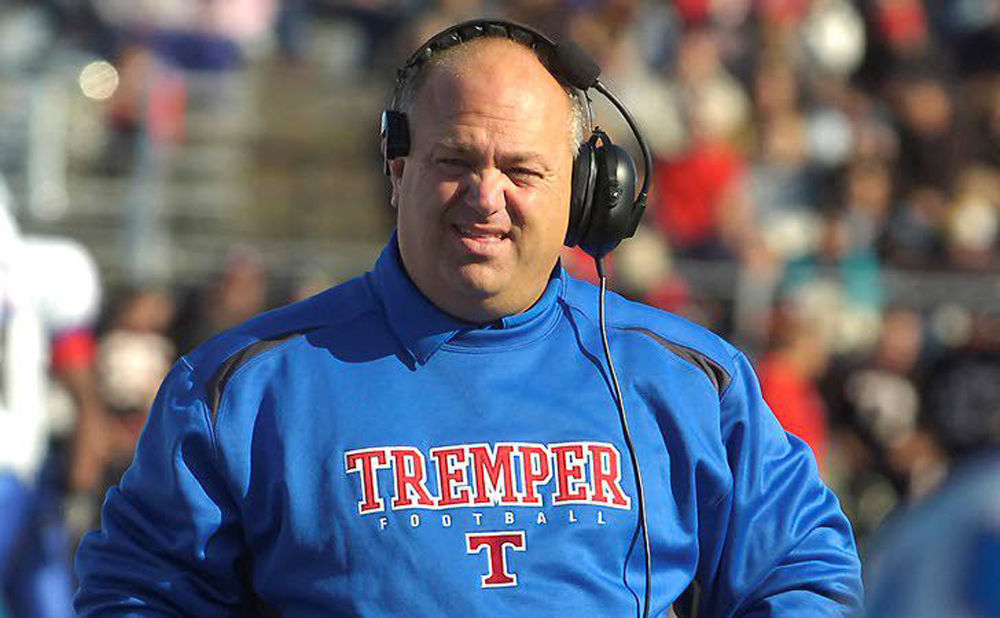 Longtime Kenosha football coach Frank Matrise Jr. died on July 11.
Matrise coached at Tremper and St. Joseph for a combined 34 years and is best known for his 19-year stint as Tremper's head coach from 1997 to 2015.
Matrise compiled a 115-78 record and led the Trojans to 10 playoff appearances. In 2001, he coached Tremper to a WIAA Division-1 state runner-up finish. In 2016, Matrise was inducted into the Wisconsin Football Coaches Association Hall of Fame.
He joined his father, Frank Sr., who was inducted in 2010.
Matrise was also Tremper's dean of students for 21 years. In his role as a coach and a dean, he impacted countless lives.
Following Matrise's death, a flood of memories of his life from family, former players and students, co-workers, peers and friends rolled in. They came via social media, email, text message and every method of communication possible.
Here is just a very small sample of the many memories shared of Frank Matrise Jr.:
Wendy Matrise (Frank's wife):
"It became a joke in our family, because no one ever wanted to go grocery shopping with Frank. A five-minute trip would take two hours, because he would talk to all his friends he would see in the store. Everyone was his friend, so that would even make it longer.
"... Christmas was his favorite time of the year. He would plan the Christmas Eve meal months ahead of time. He also loved decorating for Christmas, and he would have had a Clark Griswold house decorated outside if it wasn't for me.
"Even when his back started to hurt in December, we had to go out and put the lights up for him, and he kept complaining we didn't put out enough!"
Kyle Matrise (Frank's son, via Wendy Matrise):
"Kyle wanted to add that he loved going with his dad during the summers when he was playing travel baseball (he still is). His dad always made it special by seeing a major league game at the city they were playing at, stopping at the university to look around, or even going to one of the restaurants from 'Diners, Drive-Ins & Dives' (from the Food Channel).
"One year, after a baseball tournament, Frank made sure that he and Kyle got to stop and see a game or two at the College World Series in Omaha. These were Kyle's favorite memories."
Katie Matrise (Frank's daughter, via Wendy Matrise):
"Katie wanted to share that she loved shopping with her dad. When she went with me, I would always tell her she could get one thing. With Frank, they would come home with bags!
"He could never say 'no' to her and would tell Katie, 'Don't tell Mom.' She also loved going with Frank to Bath & Body Works to try out the new scents around the holidays. Frank was the tester, and he would smell of a million different scents because she would spray it on him.
"They would come home with a ton of bottles and candles from the store. They both loved doing this, and it was like their tradition together."
Chris Tindall (longtime Tremper boys soccer coach):
"From 2004-15, we were coaching counterparts in the fall with our soccer and football teams. Soccer coaches in some settings can tell stories about difficulties with sharing time — and space — with football teams.
"Frank and I never remotely had that issue. He did anything he could for our program. He loved Tremper and loved to see us be successful. In fact, he'd come into the office and talk soccer with me any time he could. He'd always have some story about some random Serie A game he'd watched the day before and ask for my take on it in one way or another.
"For the past six years I was a dean at Tremper with Frank, and that's when I really got to know him. It was a privilege. Not once did it seem like 'work.' It was more like hanging out with a buddy and somehow getting paid for it. He was one of a kind, literally.
"All I can say is that I learned so much from him about being a decent man, in every way. He treated every single person he came in contact with as if they were the most important person in the room. And, to him, I truly believed they were.
"I will forever miss him."
Tristan Borzick (former Tremper football standout and NCAA Division III national champion at UW-Whitewater, posted on Facebook on July 14):
"(I) don't usually believe in coincidences, but today's gave me goosebumps. I decided to go for a run in this heat, and as I go to turn the corner 'Boys of Fall' by Kenny Chesney came on, and it was an instant reminder of you being up there watching over me as if it were double days in the August heat!
"From walking into the locker room before practice and you always there with a funny comment, a high-five, or giving me crap about a girl you saw me talking to in the hall, to Friday nights getting us pumped up for our opponents and even the infamous 'White Knight' to Saturday mornings with the 'back to work' mindset for the next week...
"You never looked the other way when someone needed help or wanted to learn more. You were a mentor to all and some said the the 'Napoleon' of coaches. You led us on the field and led us off with our heads held high. The offseasons coming into (Room) 109 just to escape my schedule to talk football or talk about life, your door was always open.
"You were a great coach and a great friend. People move away but always remember who helped them in the past. Coach, you were one of the ones who helped pave the way for football through college, and I truly appreciate it. Cancer always takes the great ones, but you left your footprint on Kenosha and you molded many others to be great.
"Till we meet again coach!"
Be the first to know
Get local news delivered to your inbox!