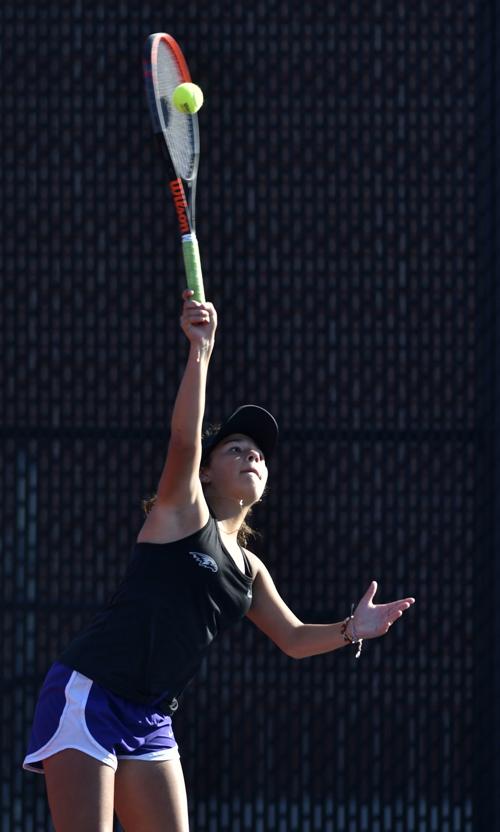 Lainy Ristau evaporated any notion that she'd be nervous in her first trip to the WIAA Division-1 State Girls Tennis Tournament.
The Indian Trail freshman cruised through a pair of matches in the singles draw Thursday at Nielsen Tennis Stadium in Madison before losing in Friday morning's third round.
Ristau opened with a first-round win over Hudson senior Ella Diedrich, 6-3, 6-2, on Thursday morning.
That set up a match against 14th-seeded Nicolet senior Miah Bohlen in Thursday's second round.
The unseeded Ristau had no trouble with her seeded adversary, as she dispatched Bohlen in straight sets, 6-0, 6-2.
Ristau then met third-seeded Lake Geneva Badger sophomore Zaya Iderzul, who ended Ristau's run with a 6-0, 6-1 victory.
Iderzul went on to the championship match, where she fell to Divine Savior Holy Angels senior Jordan Schifano, the No. 1 seed, in a thrilling final, 6-2, 4-6, 7-5.
Ristau, meanwhile, finished her stellar freshman season with a 27-6 record.
Other county players
Ristau was one of 10 players from Kenosha County in the State Tournament singles or doubles draw, but she was the only one who advanced past the first round.
At singles, Central sophomore Tristin Jantz — who entered the state field as a special qualifier — was ousted by another special qualifier, Sauk Prairie sophomore Quinlyn Mack, in straight sets, 6-1, 6-1. Jantz finished her season with a 20-7 record.
In doubles, Tremper had two teams win sectional titles, while Central got two teams into the state field as special qualifiers.
And if not for losing their tiebreaks, Tremper senior Olivia Valentine and junior Naomi Donkor and Central seniors Kenna Beth and Paige Wysiatko would've played a second-round match against each other Friday morning.
Instead, Valentine and Donkor, seeded ninth, were upset in the first round by the unseeded duo of Hartland Arrowhead senior Meredith Maginot and junior Anna Long, who entered as special qualifiers.
Maginot and Long won the first set, 7-5, before Valentine and Donkor won the second, 6-2. But Maginot and Long claimed the abbreviated tiebreaker used to speed up first-round matches.
Valentine and Donkor finished as sectional champions and with a 13-2 mark.
On the other side of that bracket, Green Bay Southwest freshmen Allison Roever and Julia Tackmier — also special qualifiers — split their first two sets with Beth and Wysiatko, 7-6, 3-6, before winning the tiebreaker.
Beth and Wysiatko finished with a 26-3 record.
Also in doubles, Central senior Emily Wermeling and junior Janell Gillmore entered state as special qualifiers but fell in the first round to the 16th-seeded Brookfield East senior duo of Pyper Scullen and Savannah Kohler, 6-0, 6-0.
Wermeling and Gillmore ended with a 19-8 record.
And for Tremper, seniors Bri Pacetti and Kara Clark entered state as sectional champions but dropped their first-round match to the 10th-seeded Franklin team of junior Sophia Dekker and sophomore Madelyn Dziubek, 6-2, 6-1.
Pacetti and Clark finished with a 10-3 mark.
In the Division-2 doubles field, Racine Prairie senior Andrea Palmen — a Kenosha resident — got into the state field as a special qualifier along with sophomore partner Molly Cookman.
They won a first-round match Thursday night before falling in close second-round match, 6-3, 3-6, 6-4, to the third-seeded Monroe senior duo of Phoebe Christenson and Jenna Wahl.
Christenson and Wahl went on to a state runner-up finish, while Palmen and Cookman finished with a 14-9 record.