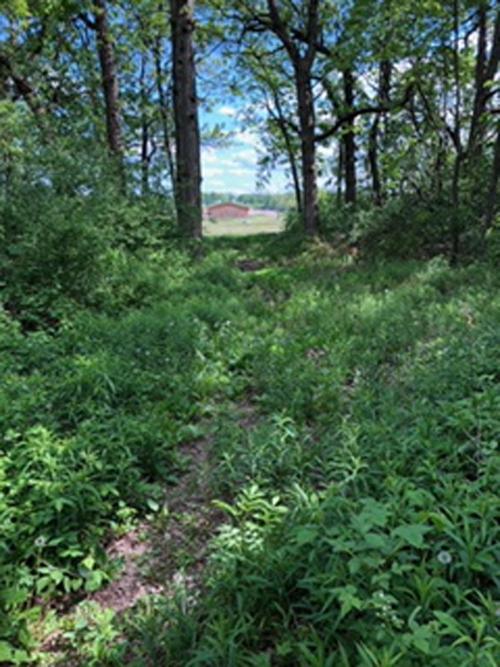 With so much going on in our lives the past few months, I decided to escape and explore the City of Kenosha parks, perhaps like no one ever has before.  
I went through the list of 70 parks that in total exceed over 1,000 acres, determining which ones I never heard of or didn't realize the scope of the park. I decided to explore four different parks, which combined account for about 250 acres, almost a quarter of the total acreage of the city park system. Over a week's time, I ventured to these parks.
I'll start with one most of you should know, Poerio Park, which features 70 acres and is most known for its four softball fields, home to many tournaments over the years.
But what you may not realize is that there are two stocked fishing ponds and about two miles of trails that take you by the ponds, in the prairie and through the woods. The best way to access the trails is to enter the park on 20th Ave., just north of 15th St. The trails are a combination of paved, gravel, crushed gravel and dirt (my favorite). This park is just a block off the Kenosha County Bike Trail. For those looking for a pit stop, the bathrooms are open, and the park makes for a quiet place for a picnic as well.
I enjoy running on these trails as part of my run from my office on the north side of town.
The next park I explored, Strawberry Creek Park, surprised me, because I had no idea the City of Kenosha had a park west of I-94. To be honest, I drove out to this park once before thinking it was a park that was never used.
Strawberry Creek Park, hidden in the far northeast corner of Strawberry Creek, is 47 acres, much more than the two acres I imagined on my first visit. The park extends north to 60th St., and according to its master plan, the park will have an environmental educational center and walking trails and paths, in addition to the existing playground at the entrance.
I arrived at the park with the park layout in hand so I could understand the boundaries. I walked on the paved trail to start, which leads to a wetland area, which I walked through to meet up with the other section of paved trail. Creating a boardwalk over this section would be great, so if there are any Eagle Scouts looking for a project, this would be a great one!
As I walked on the paved trail, I was looking into the woods for something that looked like a trail. I bushwhacked my way through the grass and found an opening into the woods. I'm not sure if this is a deer path or a forgotten trail made years ago. As I wandered through the woods, I realized that it's a combination of both, and perhaps some planning is involved as some of the trees are tagged with an orange ribbon.
My curiosity grew, and I continued to explore imagining the cool running and walking trails that could be. The trail finally leads to a much wider and open trail. Perhaps this is a designated trail/road that is intended to lead to the proposed environmental educational center.
If you like to explore, then I highly encourage you to venture out to Strawberry Creek Park, 13580 66th Place, Bristol.
Be the first to know
Get local news delivered to your inbox!