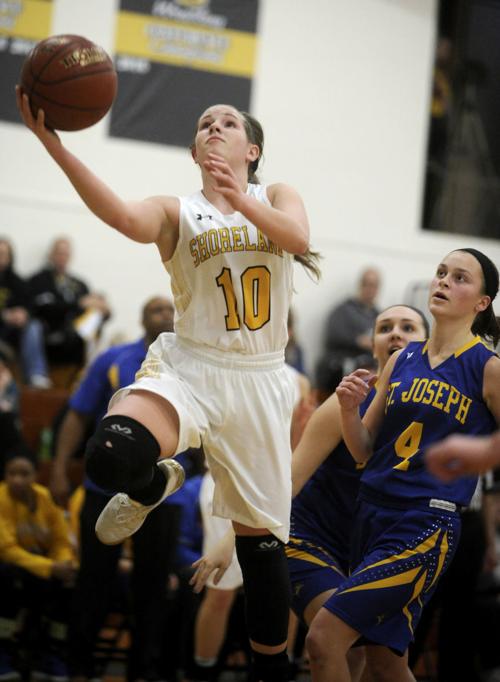 By just reaching her season scoring average, Shoreland Lutheran senior guard Chelby Koker would make history again tonight for the Shoreland Lutheran girls basketball team.
In fact, she would make it rather easily.
Koker, a senior guard who's committed to NCAA Division I Northern Illinois, is just 21 points shy of reaching the 2,000-point mark for her career, something that's been accomplished by just 22 girls in Wisconsin high school basketball history entering this season, according to a database kept on WisSports.net.
In fact, no player — boys or girls — has reached the 2,000-point plateau in Kenosha County history.
The Pacers host St. Joseph at 5:30 p.m. in a Metro Classic Conference doubleheader, which will be followed by the boys game between St. Joseph and Shoreland at 7 p.m.
Koker is averaging 30.8 points per game, tops in the Metro Classic and third in the state, according to WisSports.net. In a non-conference game at Racine Park on Dec. 17, Koker poured in 43 points to become the county's all-time leading girls scorer.
She followed that up with 38 points Friday against Racine St. Catherine's, giving her 1,979 for her career and putting her on the precipice of 2,000 points.
In the meantime, the Pacers (9-1 overall) have won four straight and are 5-1 in the conference, tied with Greendale Martin Luther for second place behind 5-0 Racine Lutheran.
St. Joseph is 3-7 overall and 2-3 in the Metro Classic after a loss Saturday to the Crusaders. The Lancers have their own high-scoring guard in junior Katie Matrise, who ranks third in the conference behind Koker and Racine Lutheran junior guard Caroline Strande (29.9) at 20.1 points per game.
Tonight's boys game at Shoreland, meanwhile, will end with one team picking up its first Metro Classic win.
The Lancers (2-7 overall) are 0-4 in conference play, while the Pacers (2-6 overall) are 0-6 in the Metro Classic.
The Bradford Fieldhouse will be the site of another county doubleheader tonight, as the Indian Trail and Bradford girls teams will tip off at 5:30 p.m., followed by the boys game at 7 p.m.
This is the teams' first meeting this season.
On the boys side, the Hawks (7-4 overall) are trying to bounce back from a 70-60 home loss to Franklin on Friday night that snapped a two-game winning streak and dropped them to 3-2 in the Southeast Conference.
Indian Trail is in a three-way tie for second place in the conference with Franklin and Racine Case, behind 4-1 Racine Park. The Hawks notched a 64-59 win at Park on Dec. 7.
The Red Devils (3-7 overall) are 2-2 in the SEC and are trying to snap a five-game slide after they started the season 3-2.
On the girls side, Indian Trail is 3-10 overall and 0-5 in the SEC, while Bradford is 3-8 and 0-4.
Tonight will also feature some key games atop the boys standings in the Southern Lakes Conference, all at 7 p.m.
Wilmot (7-2 overall, 3-1 SLC) handed Burlington its first SLC loss of the season Friday night and hosts Lake Geneva Badger (2-5 overall, 1-2) tonight.
Central, meanwhile, will visit Burlington with a chance to take over sole possession of first place in the conference.
The Falcons — ranked No. 6 in Division-2 in the latest WisSports.net state coaches poll — are 7-1 overall after splitting a pair of non-conference games in the Doctors of PT Holiday Classic at Tarble Arena but remain unblemished in the SLC at 3-0.
The Demons (7-4 overall) are 4-1 in the conference after their loss to Wilmot.
For tonight's full prep schedule, see the Scoreboard, Page C4.