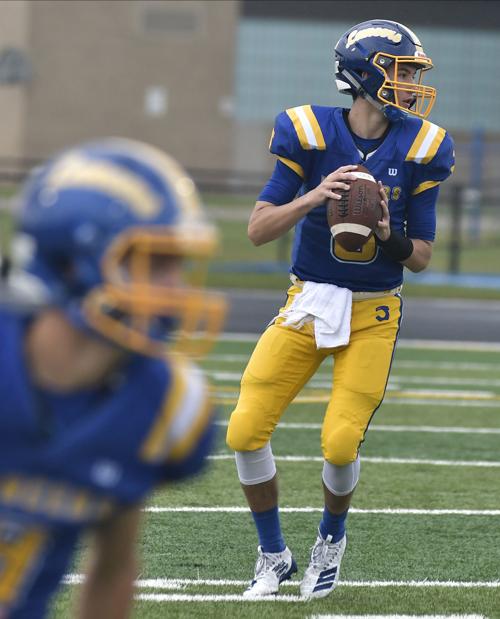 The St. Joseph football team missed the playoffs last year after a string of three consecutive postseason berths.
The Lancers would secure a return to the postseason by winning Thursday's 7 p.m. Metro Classic Conference game against Racine St. Catherine's in a regular-season finale at Horlick Field.
St. Joseph (5-3 overall) essentially put itself in a must-win position by dropping to 3-3 in the Metro Classic last week after a tough road overtime loss at Burlington Catholic Central. The Lancers need four conference wins to secure automatic postseason eligibility, and Thursday's game presents a massive challenge.
St. Catherine's (7-1 overall, 5-1 Metro Classic) is the defending WIAA Division-4 state champion and was ranked No. 3 in Division-4 in the latest WisSports.net state coaches poll.
Here's a closer look at the matchup:
Where: Horlick Field (1648 N. Memorial Dr., Racine)
Broadcast: WGTD Live on Facebook
Series note: The Angels have won three straight by a combined score of 120-27, including a 41-7 road victory in Week 9 of last season in which they rushed for 361 yards. … The Lancers' last win in the series came via a 27-7 final in a Week 5 home game in 2015.
Player to watch: This is more of a group to watch. St. Joseph will need a big game from senior running back Jake Gessert (6-2, 185 pounds), who leads the county and is second in the Metro Classic with 993 rushing yards and has 18 total TDs. But Gessert's success will largely depend on the offensive line of (left to right) junior Ben Pable (6-5, 240 pounds), senior Kyle Matrise (6-1, 245 pounds), senior Bradley Jankowski (5-10, 210 pounds), junior Danny Santarelli (5-9, 175 pounds) and sophomore Dominic Zagra (5-10, 230 pounds). … "Our success on offense will be dictated by how well we block up front," St. Joseph coach Matt Rizzo said. "St. Cat's brings a ton of pressure from seven or eight guys most of the time. We expect them to play a lot of man coverage from their corners and safeties, so up front we will have to be very sound in our blocking scheme. And, as usual, Jake will be heavily involved in our run game. So getting him going will be key, as well."
Key stat: The Angels are averaging 277.4 rushing yards per game, led by senior Isaiah Dodd's 744 rushing yards. … St. Joseph has allowed 97.6 rushing yards in its five wins and 259.3 rushing yards in its three losses.
FYI: To claim a share of the Metro Classic title, St. Catherine's needs a win Thursday and for Catholic Central to defeat Racine Lutheran in Burlington on Friday. … The Crusaders (8-0 overall, 6-0 Metro Classic) defeated the Angels, 30-22, in Week 6 at Horlick Field.
Be the first to know
Get local news delivered to your inbox!