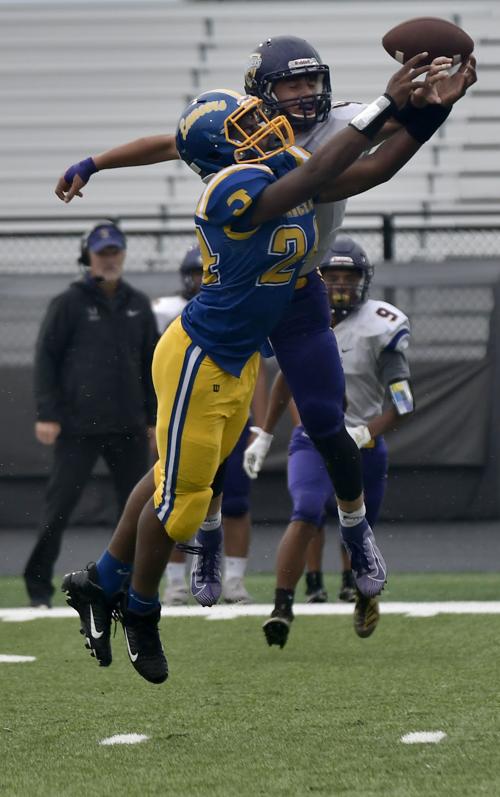 RACINE — A talented St. Joseph football team that opened this season with four straight victories arrived at Horlick Field on Thursday night dealing with this reality:
The Lancers could either figure out how to defeat defending WIAA Division-4 state champion Racine St. Catherine's and automatically qualify for the playoffs or likely pack away their equipment for the season.
St. Catherine's, which is looking just as dominating as last season, wasted no time settling that issue, scoring on each of its four possessions in the first half and defeating St. Joseph, 41-7, in a Metro Classic Conference game.
Keenan Carter passed for 182 yards and two touchdowns on just four completions and also rushed for 54 yards and two scores on three carries. With Carter setting the tone, the Angels (8-1, 6-1 Metro Classic) piled up 350 yards to just 117 for the Lancers (5-4, 3-4).
"They have a lot of really good athletes," St. Joseph coach Matt Rizzo said. "Keenan Carter is a heck of an athlete and a heck of a football player.
"And they've got a lot of good athletes around him. I know they have a young offensive line, but coach (Dan) Miller does a really nice job. They've got a team that's really going to compete, I think, in Division-4."
The Angels, who have gone 32-2 the last three seasons, will wait for the playoff pairings to be released this weekend. Considering they have outscored their opponents 391-83 this season, this is a team that has a realistic goal of bringing home a second straight gold football from Madison.
"This year compared to last year, I think our bond is a lot tighter," senior linebacker Anthony Cable said. "Since we lost all those seniors last year, we really had to buckle down and come together as one. We had to really step up. So I think we're going to do really well in the playoffs."
Aundre Hale, another senior linebacker, is similarly encouraged.
"We're getting back to that peaking point that we had last year and trying to get beyond that so we can play at the best level we can," he said. "We want to get back to state."
St. Joseph was at a disadvantage without sophomore starting quarterback Jacob Ashmus, who was injured against Catholic Central last week. But St. Catherine's was so overpowering that his absence probably wasn't a huge factor.
On St. Catherine's first series, Carter connected with Jameer Barker for an 81-yard touchdown pass. What followed on consecutive series were touchdowns of 4 yards by Demarion Cobb, 18 yards by Isaiah Dodd and 25 yards by Carter as the Angels took a 29-0 halftime lead.
Carter added a 25-yard touchdown run in the third quarter and a 61-yard pass to Dodd in the fourth.
The Angels especially demonstrated why they are the fourth-ranked team among medium enrollment schools in the latest Associated Press state poll with one series in the fourth quarter.
St. Joseph had a first-and-10 deep in St. Catherine's territory with 4 minutes, 40 seconds to play. But then sophomore Caden Tolefree was held for no gain, Daniel Sanchez knocked away a pass in the end zone and Marcel Tyler produced two successive sacks.
"'Angel Strong' football is playing four quarters and doing whatever it takes," Miller said when asked about that series. "Today, they understood that St. Joseph needed to win to get into the playoffs, and we were going to get St. Joe's best game. And we did.
"They (St. Joseph) fought hard, and they were short-manned with their quarterback not being able to play this week. But our boys love donuts. They love O&H donuts, which is what I get them when they put a goose egg on the board."
The Angels fell short of their fourth shutout of the season when their reserves allowed freshman Calvion Hunter to score on a 2-yard run with 1:14 to play.
For Rizzo, whose team closed with two straight losses, it was a bittersweet season.
The Lancers weren't technically eliminated from the playoffs Thursday, since the WIAA requires 224 teams across seven divisions to fill out its entire playoff field. There likely won't be enough teams with winning conference records to fill out the brackets, so teams that went 3-4 in their conference can still qualify via a series of tiebreakers.
But according to Travis Wilson of WisSports.net in his latest postseason projections, St. Joeph's "tiebreaker numbers aren't especially strong in the early part of the criteria."
"I don't like the way we finished, but it's a heck of a conference," Rizzo said. "It's probably got a few of the better teams in the state, so I'd put our schedule against anybody's.
"I'm really proud of our kids. I loved their effort and attitude all year. I loved their fight and their grit, and I loved how we finished and the way we competed for each other regardless of the outcome of the game."
Tolefree led St. Joseph with 62 yards on 18 carries. Senior Jake Gessert, playing quarterback with Ashmus out, added 32 yards on 15 carries and Hunter had 23 on eight carries.