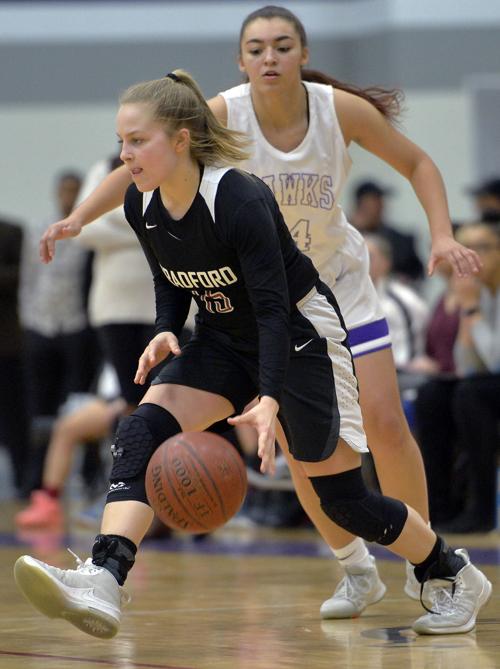 Bradford senior guard Sydney Strelow was not having one of her better shooting performances against host Indian Trail on Friday night.
So it came as a bit of surprise to Strelow that her 1,000 career-point came on a 3-pointer with 10 minutes, 45 seconds remaining in the opening half of the Southeast Conference contest.
"I knew I was getting close, but I think I was pressing a bit early trying to get it," Strelow said.
She finished the game knocking down a trio of treys and scoring a game-high 18 points to lead Bradford to a 64-44 victory over the Hawks — snapping a seven-game losing streak for the Red Devils.
"Someone told me a couple of weeks ago that I was close to getting 1,000 points, and that was a surprise to me," Strelow said. "I really owe a lot to my teammates and coaches to get this far and reach that many points."
Bradford coach Nicole Ferrille said Strelow is deserving of all her accolades.
"She's a great player on and off the court," she said. "She works hard and makes all her teammates better."
Indian Trail (3-16 overall, 0-11 in the SEC) kept the game close for 19 minutes, when the Hawks rallied from an early 19-3 deficit after Strelow's milestone 3-pointer to cut the lead to 30-26 in the opening seconds of the second half on a Kalina Winslow (12 points) bucket.
Bradford (5-15, 2-10) then went on an amazing 19-0 run in the next few minutes to build a commanding 47-26 advantage.
"We just stepped it up on both ends of the court," Strelow said.
Freshman center Aniyah Ervin (13 points), freshman guard Paige Trachte (13 points), senior guard McKenzie Kozmer (nine points), sophomore forward Riley Strelow (six points, nine rebounds) and her senior sister Sydney Strelow all contributed offensively in the huge outburst.
Freshman forward Lauryn Johnson joined Winslow in double figures with 14 points for Indian Trail, but the Hawks could not overcome the hole dug by the 19-0 Bradford run.
"When we move the ball well we can get everyone going in the right direction, and that's what we did in the second half," Strelow said. "We showed what we can do if we all play together."