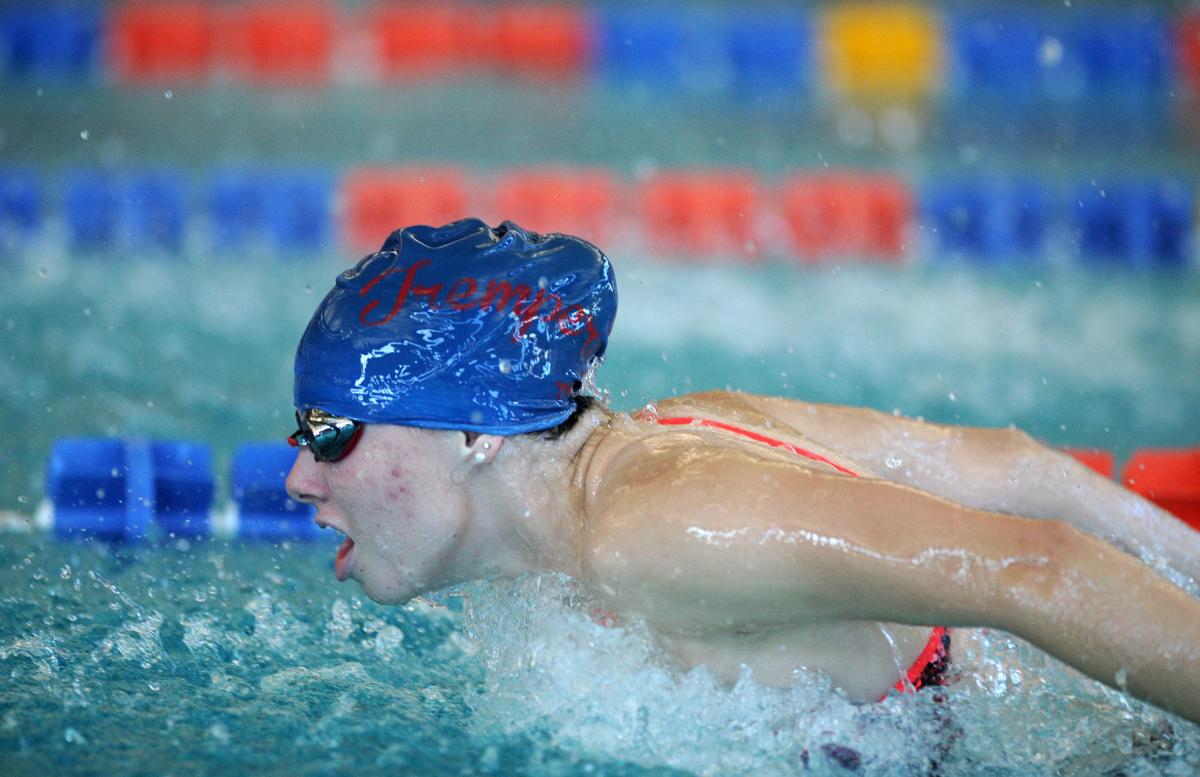 The Kenosha County contingent headed to this weekend's WIAA Division-1 State Swimming and Diving Meet grew Sunday morning.
Tremper junior Jasper Bunker already had secured her place for a return trip to Madison with a first-place finish in the 100-yard backstroke at Saturday's Greenfield Sectional.
And now she gets to compete in two more events.
Bunker, who won the backstroke title in 57.68, received a special qualifier in the 50-freestyle and also will join her 200-freestyle relay teammates at the UW-Natatorium on Saturday.
Making up that relay team with Bunker are junior Hannah Kehl, sophomore Ava Bilotti and senior Lacy Dever.
Indian Trail sophomore Joanne Banaszak also is packing her bags for the weekend, as she's set to compete in the diving competition after a second-place finish at the sectional.
Bunker was second in the 50-freestyle Saturday with a time of 23.96. The Trojans' freestyle relay team posted a time of 1:40.17.
In the diving event Saturday, Banaszak had a score of 383.15. Tremper junior Ava Benja was third with 354.4 points.
The top qualifying time in the 100-backstroke belongs to Brookfield East junior Reilly Tiltmann of 53.4. Bunker will compete in the second heat at state in that event.
In the 50-freestyle, Brookfield East sophomore Abby Wanezek is the top seed with a sectional time of 23.2. Bunker will join Wanezek and six other girls in the third heat of that event.
Middleton owns the top seed in the 200-freestyle relay in 1:36.2. Tremper is set to compete in the second heat.
Neenah senior Av Osero is the top-seeded diver heading into the state meet with a sectional score of 524.3.
Badger wins team title
In the team scores, Badger Combined — which includes swimmers from Central and Wilmot — scored 325 points to finish first.
Badger Combined freshman Callie Ceshker won the 100 freestyle (53.31) and was part of the 200 freestyle relay quartet that included senior Kearyn Brennan, freshman Zoe McNeill and junior Lauren O'Brien and won with a time of 1:39.47.
Badger Combined junior Chopper Ceshker, meanwhile, placed second in the 500 freestyle (5:39.96).
Tremper (217.5 points) finished fifth in the team standings, Indian Trail (179) was eighth and Bradford (88.5) finished ninth.
Indian Trail's top showing in swim events was a seventh-place finish by the 200 medley relay team of freshman Bella Wulterkens, sophomore Mia Walker, junior Abby Herrick and senior Abby Giese (1:59.71) and seventh-place finishes by Walker in the 200 freestyle (2:04.07) and the 100 backstroke (1:02.02).
For Bradford, senior Sydney Block was seventh in the 100 freestyle (57.83).
Dan Truttschel and Mike Johnson