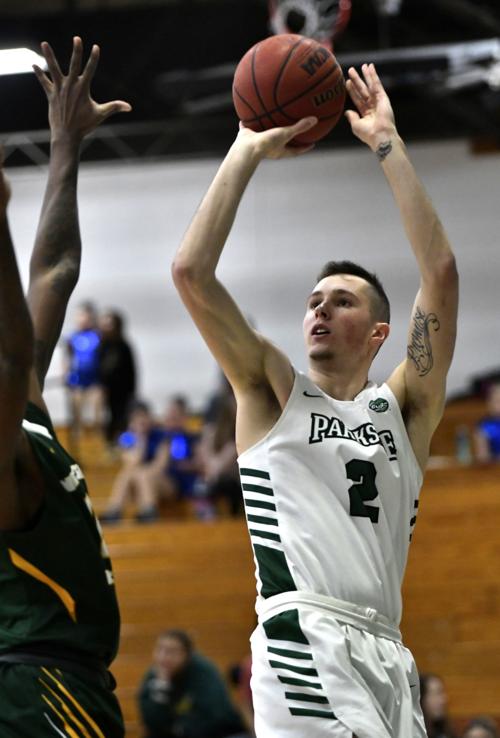 Finally, there's some routine for the UW-Parkside men's basketball team.
Due to a quirky schedule, the first half of the Rangers' season was filled with non-conference road trips, finals and the lengthy holiday layoff spanning Christmas and New Year's.
That's one of the reasons why Parkside (8-7 overall, 4-3 Great Lakes Intercollegiate Athletic Conference) played so well in winning a pair of GLIAC games last weekend at the DeSimone Gymnasium.
For the second week in a row, Parkside will play the traditional Thursday-Saturday setup — with both games in the same location — of the GLIAC slate when it faces Wayne State at 7:30 tonight at the DeSimone Gymnasium, followed by a 3 p.m. Saturday game against Ashland.
"The last two times before (last) weekend that we played well, we would have like 10 days off after that game," Parkside coach Luke Reigel said in a phone interview Sunday, a day after his team's dominating 78-60 home win over Northern Michigan on Saturday.
"We couldn't get any momentum going the first half of the year, so that's really what we're trying to do right now, is build on some positives and see if we can really get things going in the right direction and maybe shake a few people up in the league.
"... Between finals and our travel schedule and the split weekend (a road-and-home set earlier this month), this literally was our first regular Thursday-Saturday week of the year (last week), which is hard to believe."
Parkside carries a two-game winning streak into tonight's matchup and will wrap up its five-game homestand Saturday.
Wayne State (1-6) and Ashland (0-7) have struggled in league play, but that won't matter if Parkside doesn't play well.
"Wayne State and Ashland are just impossible to figure out," Reigel said. "Their records are not good in the league, but they play everybody tough. They just haven't broken through, so we hope that continues for another week."
Parkside, the reigning GLIAC North Division champion, is tied for third place in the division at 4-3 with Northern Michigan, a game back of 5-2 Michigan Tech and two behind 6-1 Ferris State.
While the Rangers have been mostly strong on defense this season, their two-game sweep last weekend had a lot to do with an improved offense.
They turned the ball over just four times Saturday, a remarkable total for a 40-minute college basketball game. The Rangers still rank seventh in the 12-team conference with 12.9 turnovers per game, but last weekend was encouraging.
"The thing that kind of stood out was we had a couple very good film sessions," Reigel said of the team's practices leading into last weekend. "I think sometimes players need to just see it on tape of what we're talking about that we think they're doing wrong. Once they see it on film, sometimes it's easier to correct that way. That's kind of what we did.
"I think our players, especially our young players, have a much better understanding of what we want with our shot selection and getting rid of the needless turnovers. We were turning the ball over, and it was 100 percent self-induced. Just to (cut down) that type of stuff has cleaned up our offense."
Parkside redshirt sophomore guard Brandon Trimble is the reigning GLIAC North Division Player of the Week, and he enters this weekend with a ton of confidence.
It's been a nice turnaround.
Trimble averaged 11.9 points per game in 27 games off the bench as a freshman. He started the Rangers' first 13 games this season but was mired in a terrible shooting slump.
Reigel decided to bring him off the bench last weekend, and that decision worked out, to say the least.
Trimble scored 21 points in a 69-56 win over Michigan Tech last Thursday and erupted for 25 points — including 6-of-7 from 3-point range — against Nothern Michigan on Saturday.
"You can see when he's on the floor now, he looks like the Brandon Trimble that had big games last year," Reigel said. "Playing with that confidence and knowing that if you miss one shot it's not the end of the day — you take another good one, the odds are you're going to make it if you're a good shooter — that's the way he's playing now.
"Just having the ability to make shots on the perimeter and then the ability to get to the basket, that's a dangerous combination."
UWP women on winning streak
The Parkside women's team played a brutal early-season schedule.
Apparently, it's paying off.
The Rangers (9-6 overall, 6-1 GLIAC) are one of the hottest teams in the region, as they enter tonight's 5:30 p.m. GLIAC game against Wayne State at the DeSimone Gymnasium on a seven-game winning streak.
Parkside has a two-game lead atop the GLIAC North, with Ferris State, Northern Michigan and Michigan Tech all tied for second at 4-3.
After tonight's battle with Wayne State (2-5 GLIAC), the Rangers have a huge game against perennial national power Ashland at 1 p.m. Saturday at the DeSimone.
The Eagles were ranked No. 3 in the latest NCAA Division II coaches poll and enter the weekend 15-0 overall and 7-0 in the GLIAC, first place in the South Division.
But Ashland won't be the first strong opponent on Parkside's schedule.
The Rangers opened the season with nine of their first 10 games, including an exhibition, away from home. Now, they're on a five-game homestand that concludes this weekend.
Second-year Parkside coach Jen Conely said the tough early schedule helped accelerate the team's growth, especially since it was returning just two starters from last season in redshirt senior guard Taylor Stephen and senior wing Carolina Rahkonen.
"Five of our first 10 games were against teams that played in the NCAA Tournament last year," Conely said following last Thursday's victory over Michigan Tech. "I thought we competed for the most part, but we had a couple minutes where we had a slip, and those teams can make you pay for that. I thought we showed a lot of growth.
"... It's been kind of a trial by fire for our newcomers and our returners that had limited playing experience. I think because we played such a tough schedule, it really helped accelerate that."
Said Stephen: "We played a lot of hard teams in the beginning, and I think that really prepared us for conference. We had some practices that we really focused on defense, and I think that's really what's coming through, and that's helping us end games."
One player who's especially blossomed this season is sophomore guard Alyssa Nelson.
The New Berlin West product leads the team with 15.7 points per game and in Saturday's 58-55 win over Northern Michigan drained the game-winning 3-pointer at the buzzer.
Nelson is the two-time reigning GLIAC North Player of the Week.