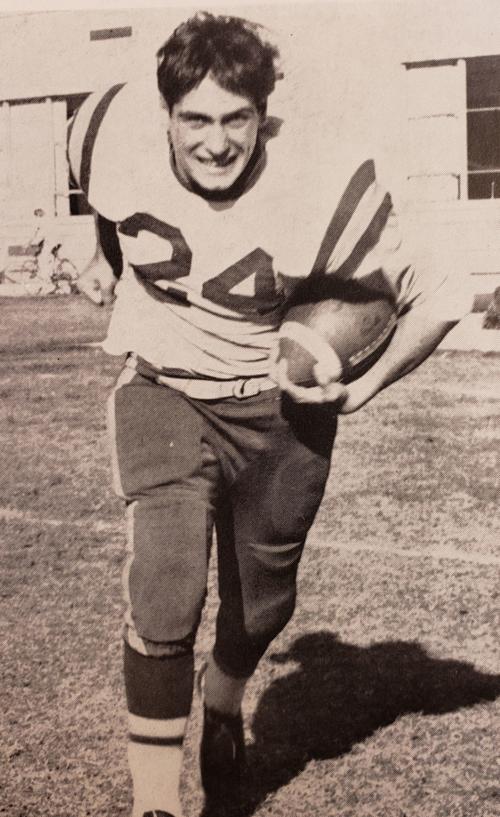 Editor's note: This is the first of a "Where Are They Now?" series that will run on the third Tuesday of each month during the Kenosha News' 125th anniversary year. The series focuses on former Kenosha County standout athletes and their lives after sports.
Mike Vernezze's football career at Boston College was cut short by a shoulder injury.
At the time, he said, it left him feeling a little depressed.
It turned out to be a blessing in disguise.
"I was kind of down my senior year, and the doctor told me, 'When you're 50 years old, you're going to be happy that you didn't play a lot of contact sports,'" Vernezze said in a phone interview Monday morning.
"... That doctor was right. He hit it right on the head."
Well, that doctor was slightly wrong about one thing.
Vernezze, a 1967 St. Joseph graduate and a three-sport standout for the Lancers, wasn't just grateful for the decision to give up football at 50 years old.
He turned 70 on New Year's Eve and still enjoys an active life as an avid and competitive golfer and as an adjunct professor at Gateway Technical College, where he's in his 40th year teaching. Vernezze and his wife Julie — they recently celebrated their 44th wedding anniversary and began dating in 1965 — now split their time between New Port Richey, Fla., and their condo in Delavan.
He's still a teacher, though.
Hired to teach business-to-business marketing at the Kenosha Gateway campus in 1978, Vernezze still teaches two online classes and an in-classroom course at the Elkhorn Gateway campus, despite retiring from full-time work in 2012.
"I can't play golf every day," Vernezze said. "I get stale, and I get mad at myself. ... (Teaching) keeps me sharp. I'm able to keep my mind going."
Vernezze's mind clearly contains bountiful stories of his life in sports and teaching.
It all started when he was growing up on the south side of Kenosha, the oldest of five children.
"Growing up in Kenosha, I loved it," Vernezze recalled. "Every morning, we would go over to Lincoln Park and play baseball. We'd eat lunch, and after that we'd go play until the mosquitoes wouldn't let you. Then in the fall, we'd go play tackle football.
"Back then, you played every sport."
Three-sport star
That versatility carried over to St. Joseph, where Vernezze played three years of varsity in three sports, football, basketball and baseball.
He recalled winning the state baseball title as a sophomore in coach Bob Radigan's final season.
"It was kind of a thrill, because I was only 15, 16 years old," Vernezze said.
He played basketball for two years under Dick Versace, who went on to a long coaching career in college and the NBA.
But Vernezze's greatest exploits came on the gridiron playing in the old Metro Milwaukee Conference against other large Catholic schools like Racine St. Catherine's, Milwaukee Marquette and Milwaukee Pius XI.
Vernezze recalled the sheer size of those schools' student bodies in those days, including St. Joseph.
"You had a waiting list," Vernezze said. "Each class had 400. We had 1,600 students at St. Joe's. ... As many students as they had (in the entire student body recently), we had in our (freshman) class."
Like every team in town, the Lancers played at old Lakefront Stadium, and Vernezze had a memorable moment during a Homecoming game his senior year against Whitefish Bay Dominican while playing safety during a goal-line stand.
"They were about to go in for a touchdown, and we were up a couple scores," Vernezze said.
Rather than tackling the running back at the goal line, Vernezze ripped the ball right out of his hands.
"I think I ran 99-and-a-half yards for a touchdown," he said.
Different level
During his sophomore year at Boston College, Vernezze decided to try the same thing against Army's All-American back Charlie Jarvis.
This time, it didn't work out as well.
"He just ran me right over, and I think he ran like 60, 70 yards for a touchdown," Vernezze said. "My coach wasn't real happy after that. It worked in high school, but it didn't work in college."
Jarvis, in fact, rushed for a then-Army record 253 yards that day.
Nevertheless, despite his college run-in with Jarvis, Vernezze was a standout athlete in his own right.
He was inducted into the St. Joseph Athletic Hall of Fame in 1996 and in 1967 was named the Holy Rosary Sports Night Outstanding Athlete of the Year. His youngest brother, Richard, also won the award in 1979.
When it came time to pick a college, Mike Vernezze credits the guidance of then-St. Joseph football coach Bob Carbone.
He had offers from Navy and Air Force, who wanted him to attend prep school for a year and raise his SAT scores, and also had interest from other schools. But Boston College offered him an athletic and academic scholarship.
"I owe a lot to the head coach, Bob Carbone, because he kind of nurtured me when it came time to pick schools," Vernezze said. "I had some good offers, and he kind of said, 'Look to the long run. Where can you get your best degree?'"
It would turn out to be prescient advice.
Playing left halfback and safety, Vernezze was part of a BC freshman team that went 4-0 — freshmen couldn't play on college varsity teams then — before playing varsity his sophomore year.
Vernezze said he was going to get a shot to be one of two starting halfbacks alongside Fred Willis — who went on to play five years in the NFL — but he dislocated his left shoulder in spring practice as a sophomore.
"Like an idiot, I played softball three or four nights a week (that summer), and it kept popping out," Vernezze said. "I made it all through doubles (two-a-days) my junior year (of summer practices), and the last contact practice I was the blocking back on a punt."
During that play, Vernezze said, the guy he was blocking drove the ball joint in his shoulder back into his neck, an injury so serious that Vernezze had to go to the hospital for relief just so he could breathe.
He had six staples inserted into his shoulder and missed his junior season, then prior to his senior year was told by the team doctor that he should probably give up contact sports.
Just like that, Vernezze's football career was over, but it wasn't long before another, much longer career arrived.
Vernezze graduated from Boston College in 1971 after majoring in finance and marketing. He initially wanted to stay on the East Coast.
"When I graduated, the economy was like it was in 2008," Vernezze said. "I really liked the East Coast. I wanted to stay out there, but there were no jobs."
So he moved back to Wisconsin and got a job working for a beer distributor. He and Julie eventually settled in Elkhorn — she worked as a first-grade teacher in Clinton for 35 years — and Vernezze attended UW-Whitewater from 1974-76 to get his master's in marketing education while still working as a beer distributor.
Then, the job at Gateway in Kenosha opened up, and Vernezze was willing to make the drive from Elkhorn and back.
"I said, 'Let's see if I like it or not,'" he said. "She went 20 miles to work in the morning, and I would drive to Kenosha."
It turned out that Vernezze would put a lot of miles on his car.
In 1979, Vernezze took on a role as an adviser for Gateway's DECA program to help students prepare for careers in business, marketing and finance.
The DECA program features statewide, national and international competitions, but when Vernezze began his work with it at Gateway, it wasn't exactly flourishing.
"My students didn't do anything, they just sat there," he said. "This organization was known as the 'party club,' and that didn't bode well with me. I was too much of a competitor.
"... (I said), 'Let's build this program up, because if we build it up, we can recruit students from high school.'"
Vernezze compared his work with DECA to being a coach, and he guided countless students over the years, eventually turning Gateway into a successful competitor against other two- and four-year colleges in the state.
Gateway first won a state title in 1990, and there were more to follow.
"I left Gateway full-time in 2012, and I think we won it 13 times, first place, and the other times we were second place," Vernezze said. "We were never lower than second place."
"... I can remember when I had my first national winner. I don't think I ever had a rush playing sports like I did when my student took first place in the nation."
In the meantime, Vernezze began to focus his athletic pursuits on golf.
"I was playing baseball for one of the bars in Kenosha, but they had a golf league," he said. "I didn't even have golf clubs. I played barefoot and borrowed somebody's clubs. But the competition, it was something I enjoyed.
Having his summers off, Vernezze began to play at Spring Valley Country Club four or five times a week. There, he struck up a relationship with Fred Hawkins, a PGA Tour veteran and Antioch, Ill., native who would hone his game at Spring Valley.
Hawkins tied for second place in the 1958 Masters.
"He was a very down-to-earth type of guy," Vernezze said. "He kind of took me under his wing. There's more to golf than just hitting a 300-yard drive. When he wasn't talking, I would just watch him. It took me a while, but that became my new passion in athletics."
Vernezze kept getting better, and in 2016 he won the senior club championship at Seven Springs Golf and Country Club in Trinity, Fla.
"That was a thrill to win an actual tournament," Vernezze said.
Now, after spending winters in Florida, he and Julie come back to Wisconsin for the summer on Mother's Day.
They enjoy spending time with their daughter, Katie, and granddaughter, Violet, who just turned one in October.
Vernezze still keeps in touch with his former Gateway students. Many, he said, have become vice presidents of companies and have had great success in the business world.
"That's kind of gratifying to see that happen," Vernezze said.
In the meantime, Vernezze is still teaching. And still learning.
He regularly has to keep updated on the technology required to teach his online courses. But, as he says, it keeps him sharp.
As he learned all those years ago at Boston College when that shoulder injury forced him to quit football, life is constantly about adapting and learning.
To this day, the teacher often remains the student.
"I'm a believer in lifelong education," Vernezze said. "I tell the kids, 'Never stop learning.'"