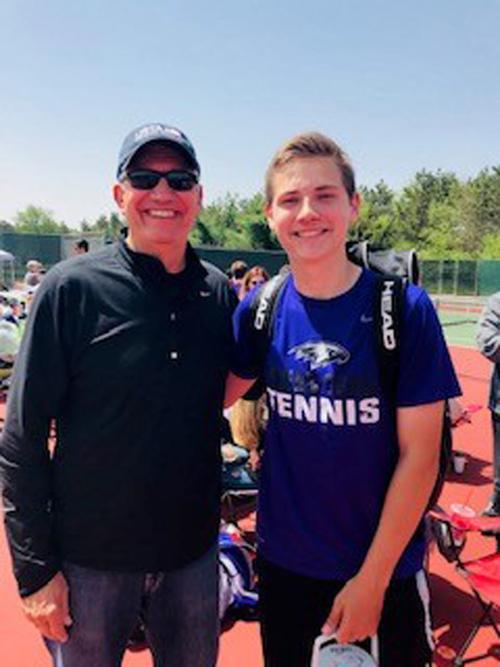 Editor's note: "Who We'd Be Watching" highlights county athletes who would be competing in spring sports if not for their cancellation due to the COVID-19 pandemic. It will run throughout the rest of spring. Email suggestions to mjohnson@kenoshanews.com.
Cole Reigel, Indian Trail, Sophomore
Sport: Boys tennis (No. 2 singles).
Biggest accomplishment: "My biggest accomplishment in sports happened last year when my doubles partner and I qualified for state."
Will miss most this spring: "The thing I will most about this year of competing would be my team and road to state. This year we had more freshmen apply for tennis than any year. It would have been nice to see us grow as a team and watch the new players get better."
Positives to take away: "One positive I can take away from this situation is how much practice and training I am able to accomplish with my extra spare time."
Coach/teacher influence: "The best coach I have had has to be my high school coach, Todd Anderson. He has gotten me to the place I am today. He has gone out of his way countless times to better me and help me grow as a player. Other coaches that have helped me greatly would be Coaches Fabio and Bas over at Life Sport, who I've been working with a lot recently. And finally, my coach at Lake Geneva, John Reed. Although I can be a tough student to teach sometimes, these coaches have worked with me endlessly to help me succeed."
Advice for youngsters: "Just to have good work ethic and mindset, because if you don't enjoy the sport you play then you won't get better in the long run."
Future plans: "My future plans include attending the University of Arizona and playing tennis. I would like to study law when I get to college and become a lawyer to rise in the ranks in the courtroom."
FYI: As a freshman last year, Reigel and then-senior Ben Haigh advanced to the WIAA Division-1 State Tournament in doubles. Reigel is also the younger brother of Jake Reigel, the other Who We'd Be Watching athlete today.
Be the first to know
Get local news delivered to your inbox!