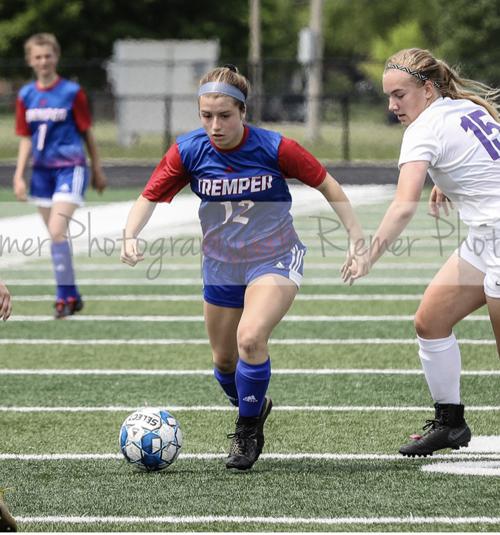 Editor's note: "Who We'd Be Watching" highlights county athletes who would be competing in spring sports if not for their cancellation due to the COVID-19 pandemic. It will run throughout the rest of spring. Email suggestions to mjohnson@kenoshanews.com.
Haley Leadingham, Tremper, Senior
Sports: Girls soccer (forward), girls golf.
Biggest accomplishment: "Sophomore year I made first-team All-County for soccer, and being voted co-MVP by my teammates and my coaches. I was also awarded most improved golfer my sophomore year. I also made second-team All-County my junior year."
Will miss most this spring: "I will definitely miss my teammates and coaches the most. We have made endless memories on and off the field, and I will forever be grateful to have shared an amazing four years with all of them. They have inspired me and pushed me to be better, and I am so thankful to have been a part of such an amazing team."
Positives to take away: "I honestly struggle to find a positive because of how disappointing and sad this whole situation is for everyone, but if I had one positive thing to say is that I know we will learn and grow stronger from this experience."
Coach/teacher influence: "There are many teachers and coaches who have helped and inspired me throughout my journey in high school, and I would like to give thanks to all of them who have impacted my life in many ways. I want to give a special thank you to Todd Hardy (high school soccer coach), especially for welcoming me to the team as a freshman knowing that I would miss the season to an injury. I appreciate everything he has done for me both on and off the field. I would also like to acknowledge and thank my club soccer coaches, especially Tony Fabiano, Michael Sullivan and a big thank you to coach Srgjan Smileski. Thank you all for helping me prepare to achieve my dream of competing in college. All of these coaches have helped me become the person and player that I am today. I also want to thank my golf coaches, Nancy Phipps, Jackie Valeri and Nick Myers."
Advice for youngsters: "One thing I would say to a kid who looks up to me is to always play with your heart and never take anything for granted. Always give 100 percent in everything you do in life."
Future plans: "I will be attending the University of Wisconsin-Green Bay in the fall and will be playing on the women's soccer team! I plan on studying either nursing or elementary education."
FYI: As a junior last spring, Leadingham was named second-team All-Southeast Conference at forward for girls soccer.
Be the first to know
Get local news delivered to your inbox!