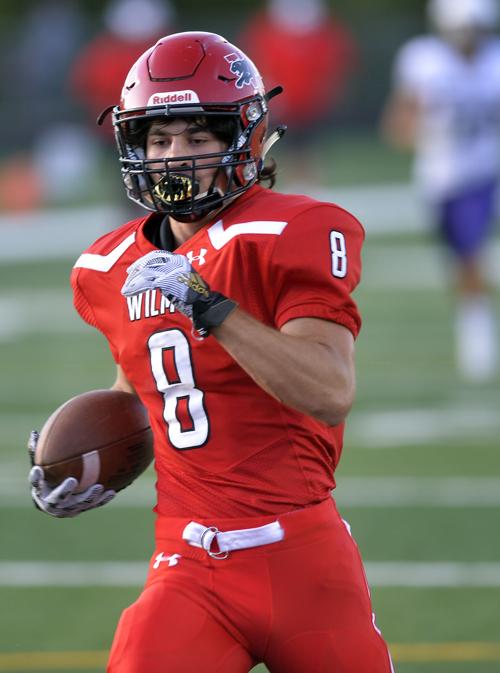 County high school football teams start playing for keeps tonight.
With Week 3 marking the start of the conference schedule in the area, tonight's games begin to determine who will make the playoffs and who will be in contention for a conference title come Week 9.
And while nothing that dramatic will be decided tonight, of course, the game with the most on the line is the Southern Lakes Conference matchup between Wilmot and Lake Geneva Badger at 7 p.m. at Wilmot's Frank Bucci Field.
The winner will obviously be far from locking up the SLC title, but it can stash away a key win with six SLC games left after tonight.
"I think whoever can win this game has a big opportunity the rest of the way," Wilmot coach Keiya Square said.
Wilmot, Badger and Waterford have been the lead dogs in recent years in the SLC. Last year in the conference opener, the Wolverines beat the Badgers to springboard their run to a 7-0 SLC title.
Since Wilmot began its string of nine straight postseason appearances in 2010 — Badger has made the playoffs 13 years running — the Panthers and Badgers have combined for at least a share of eight SLC titles. Only once, when Badger finished fifth in 2014, has either team finished lower than fourth in the eight-team conference since 2010.
And when they play each other, it usually goes down to the wire.
Wilmot is 5-4 in the series since 2010, including a 14-13 victory in 2010, a 24-21 win in 2014 and a 23-17 victory last season.
Badger emerged victorious in two classics prior to last year, winning 27-21 in double overtime in 2016 and 31-24 in overtime in 2017.
"We've kind of been practicing that way and talking to our kids all week," Square said. "Any team you play, especially Badger, it's going to come down to the end. Very rarely are the blowout games on either side. ... You expect a close game and hope that you can execute the whole game and then all the way at the end."
Square and his staff certainly won't be surprised by Badger's offense, which runs the flexbone to perfection under head coach Matt Hensler. Last week, led by senior quarterback Grant DuMez, senior fullback Cole Gabor-Pullen, senior wingback Drew Laskwoski and junior wingback Tannor Garrels, the Badgers rolled up 453 rushing yards in a 42-14 blowout win at Bradford.
"They've been running the same thing for a while since Matt's been there," Square said. "Their offensive line is big and strong, their running backs are strong and their quarterback is a pretty good player. ... You've just got to be fundamentally sound, and guys have to be in their spots and make tackles and do everything right, because their guys will make you pay.
"... It's the Badger teams that you're used to seeing. They're going to run the football and dare you to stop it."
The SLC had a banner non-conference season, with Wilmot and Badger going 2-0 along with Waterford and Burlington. The SLC went 11-5 overall, including an impressive 7-1 against SEC opponents.
"I get along with all the coaches in the conference," Square said. "It kind of feels like the Southern Lakes is one of those forgotten conferences, and I think there's a lot of good football in the Southern Lakes."
Now the SLC teams will test their mettle against each other, and there's no better test than tonight in Wilmot.
"Now we've got to go," Square said. "There's a lot of smashmouth football, and it's going to be a fun year."